Company has submitted before the court that the plaintiff is attempting to attach property that falls outside of the jurisdiction of the Court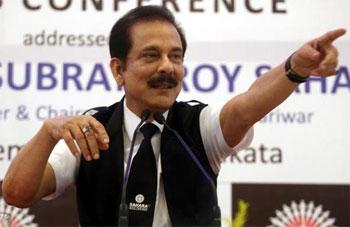 Slapped with a $350 million lawsuit seeking attachment of its two prized hotels here, crisis-ridden Sahara has told a US court here that it has been wrongly dragged into a dispute between two entities over "a potential business relationship gone sour".
Seeking an immediate rejection of a plea by Hong Kong- based JTS Trading to attach Sahara's Plaza and Dream Downtown hotels here, the Indian conglomerate has submitted before the Supreme Court of the State of New York that the "plaintiff is attempting to attach property that falls outside of the jurisdiction of this Court."
"Even if the Court were to ignore the obvious jurisdictional deficiency, Plaintiff would not be entitled to the relief it seeks because it is seeking to attach the property of non-parties that are not implicated by the allegations in the complaint," Sahara said in a submission before the Court.Sahara, along with two others, has been dragged into this $350 million (Rs 2,200 crore) lawsuit filed by JTS Trading Ltd, which had apparently proposed to partner UAE-based Trinity White City Ventures and arrange loans from Swiss banking giant UBS to acquire Sahara's three overseas hotels -- Grosvenor House in London and the two in the US.
In the lawsuit filed against Trinity, Sahara and UBS, JTS has alleged that Trinity cut it off from the deal for direct negotiations with Sahara. JTS has also accused Sahara and UBS of having "aided and abetted" the UAE firm in breaching its "fiduciary duties" under their agreement.
Looking into the suit, the court had last month passed an 'order to show cause', asking Sahara India Pariwar to show cause in the court why "an order should not be made" for attaching the group's interest in the Plaza and Dream Downtown hotels in New York.
In its submissions made before the court through its counsel here, Sahara has now said that JTS was seeking "to attach property owned by entities over which this court has no jurisdiction, and property owned by non-parties that are not accused of any wrongdoing, in the context of claims that are tenuous at best".
"The complaint and affidavits underlying the Order to Show Cause paint a picture of a dispute between JTS and Trinity White City Ventures Limited over a potential business relationship gone sour," it further said.
Sahara said it was true that A group entity Aamby Valley Mauritius had intermittent discussions in recent months with Trinity for a possible loan transaction, but there was no basis for JTS' allegations that Aamby Mauritius was aware of the nature of the relationship between JTS and Trinity, or of any alleged breach of fiduciary duty by Trinity owed to JTS.
JTS has also engaged a law firm in India "to carry out research, review and analysis" in relation to actions or proceedings being faced by Sahara Group under various laws, specifically Prevention of Money Laundering Act, Foreign Exchange Management Act as well as other legislations concerning regulation of financial markets in India.