Railway Minister Mukul Roy on Monday said safety, security and punctuality are his priorities while asserting that the Railways would strive to achieve a better operating ratio.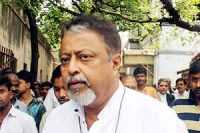 "Safety, security and punctuality are our priorities. It is the most friendly transport in the country and our effort will be to bring it more closer to the people," Roy told newspersons.

Stating that the operating ratio of the Railways since 1973-74, when it was around 74, has never been below 90, he said "I will ensure that we work in a manner that we can achieve the old operating ratio."

To persistent queries whether he was not contemplating a rollback of recent hike in freight rates ranging from 15 to 35 per cent for different goods, the minister refused to be drawn in saying "the fact remains that it was not in the Budget provision. The minister has to reply on Budget proposals only."

"It was not within the Budget. So question does not arise for reply to a question which was not within the Budget," he said.

"That is not within the Budget, again I repeat that
it is not within the Budget," he said when mediapersons pressed further on the matter.
Freight rates were hiked by his predecessor Dinesh Trivedi ahead of the Railway Budget.
Asked how he would tackle the financial constraints being faced by the Railways he said that "in my reply on Friday to the debate on Railway budget in both Houses of Parliament I have clearly stated the future objectives. So no further question should be raised."
When a reporter pointed out that he was being criticised by CPI(M) that as a Railway minister he was confining himself mostly to Kolkata, he said "question is not sitting in Delhi or Kolkata. The question is how you can perform. I know what is my job, I know what is my duty and how to tackle."
The minister said that all the pending projects would be completed within the time frame.
Roy said that in the first phase, he was here to discuss the pending projects of Eastern Railway, South Eastern Railway and the Metro Railway with the respective general managers and other officers.
Roy described the tenure of Mamata Banerjee, his party supremo, as Railway Minister as a 'glorious chapter' of the Indian Railways.