'The move is a succession plan where Sikka comes on the board as vice chairman.'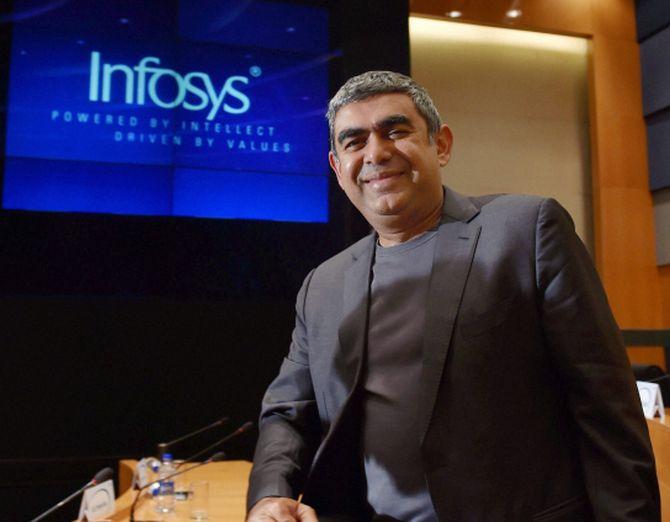 Former Nasscom chairman BVR Mohan Reddy said on Friday that it was very "sad" to see a "good CEO" like Vishal Sikka stepping down and added that promoters have no say after leaving a company.
The company said Sikka, the first non-founder CEO of Infosys, has abruptly resigned due to the "continuous assault" and "campaign" by founder and ex-chairman NR Narayana Murthy.
Reacting to this, Murthy said he is not seeking "any money, position for children, or power", while expressing anguish over the board's allegations that his "continuous assault" led to Sikka's exit.
Reddy said: "It is very sad to see a good CEO leaving a great company for avoidable reasons. The promoters have no locus standi (right to interfere or have say in the matter) once they leave the company."
If something similar had happened in a western country, shareholders would file class action suits against the company, said Reddy, founder and executive chairman of Cyient.
"Even assuming that the 12.5 per cent create trouble, who suffers is the other 87.5 per cent," he said.
As of June 2017, the founders of Infosys are holding 12.75 per cent shares in the company.
Sikka resigned amid heightened acrimony between the board and high-profile founders led by Murthy.
Mahesh Singhi, founder & MD, Singhi Advisors, said, "The move is a succession plan to the company where Sikka comes on the board as vice chairman.
During the past couple of months resignation of Dadlani who was responsible for generating business in the company came as a setback.
This resignation is just a succession plan for him post the company's transformation since he took over.
This also seems as the direct move to me at the time when the company is battling against time to put Infosys back on the growth pedestal, as an embattled board and management face questions on poor corporate governance from some of the company's founders, led by N R Narayana Murthy."
Sarabjit Kour Nangra, VP Research - IT, Angel Broking said, "While in near term it's a setback for the company; but given the strength of the board of the company, we believe that the company will be overcome the setback.
Given the valuations we maintain our BUY rating with a price target of Rs 1,179."
Additional inputs from Agencies
Photograph: PTI Photo