Facebook has launched a joint project with Russian mobile operators on free access to its website via cell phones, an official of the social networking company said.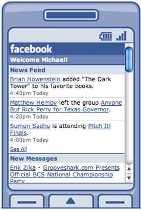 The Facebook Zero project was aimed at cooperating with mobile operators, whose subscribers will have free access to the Facebook mobile version, Henri Moissinac, chief of Facebook Mobile, has said.
Facebook has already signed contracts with Russian main mobile operators Beeline and MTS, RIA Novosti reported.
Last week, Facebook founder Mark Zuckerberg said the social network's team would make special efforts to gain an audience in Russia, Japan, China and South Korea where it traditionally had not enjoyed great popularity.
According to TNS Web Index, produced by the leading international research company TNS Gallup Media, Facebook has one million users in Russia, while its main competitor, the Russian community network 'VKontakte', already has over 75 million users.