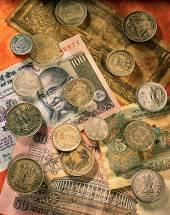 Rising for second day in a row, the rupee on Friday gained 27 paise to close at 55.37 against the dollar after RBI intervened on currency breaching the 56-level in early trade.

At the Interbank Foreign Exchange (Forex) market, the domestic unit opened lower at 56.02 as against its previous close of 55.64 on dollar buying by importers, mainly oil refiners, to meet their month-end requirements.

Soon after, it touched an intra-day high of 56.07 against the US dollar.

However, Reserve Bank's intervention and dollar selling by exporters on hopes of further fall in dollar value overseas helped the rupee conclude at 55.38, showing a rise of 27 paise or 0.49 per cent. The rupee was also helped by the euro moving up from its two-year lows against the dollar.

"Rupee recovered on Friday due to intervention from the central bank also with improved sentiment after Thursday's speech of RBI Governor," T S Srinivasan, GM (Treasury), Indian Overseas Bank said.

On Thursday, the rupee had gained 35 paise, snapping a three-day session of losses, after RBI indicated it may sell dollars directly to oil companies.

Dealers said sentiment got a further boost after RBI Governor D Subbarao on Friday called on Prime Minister Manmohan Singh and discussed the rupee issue.

However, the strength in rupee in the last two days of this week did not help it from logging the eighth straight week of losses, its longest losing streak since October 2008.

The rupee's over 13 per cent depreciation since early March has been driven by a combination of deteriorating global risk sentiment and weak domestic fundamentals.

Meanwhile, the BSE benchmark Sensex on Friday ended nearly flat (lower by 4.48 points) after gaining over 274 points or 1.72 per cent on Thursday.

Experts feel the rupee to trade in a close range in the short-term.

"We expect dollar/rupee to trade within a range of 55-56 on spot," said Anindya Banerjee, Senior Manager-Currency
Derivatives Research Desk, Kotak Securities.
Barclays' Capital also on Friday said it expects USD/INR to hover around 56 and 54 in one and three months, respectively, before easing modestly to 51 in 12 months.
The dollar index, a gauge of six major currencies, was down by nearly 0.23 per cent in European market on Friday.
Pramit Brahmbhatt, CEO, Alpari Financial Services (India) said, "The USD/INR pair then started gaining strengthening improved risk appetite in global markets over better than expected German consumer confidence numbers and short covering in equity markets".
Abhishek Goenka, CEO, India Forex Advisors said the rupee is in a correction mode and the immediate support is seen at 54.90.
"The overall bias is still weak for the rupee with major imbalance in the local fundamentals and on-going Euro crisis.
"The RBI bought the bonds of worth Rs 15,000 crore($2.71 billion) on Friday through OMO, to address the liquidity condition in the local market," he added.
The premium for the forward dollar on Friday ended weak on fresh receivings by exporters.
The benchmark six-month forward dollar premium payable in October moved down further to 149-151 paise from 153-155 paise on Thursday and far-forward contracts maturing in April also closed remarkably lower at 277-279 paise from 286-288 paise.
The RBI fixed the reference rate for the US dollar at 55.7253 and for euro at 69.8940.
The rupee improved further against the pound sterling to end at 86.86 from overnight close of 87.28 and also remained firm against the euro to 69.63 from 69.99. It too gained against the Japanese yen to 69.67 per 100 yen from last close of 70.13.