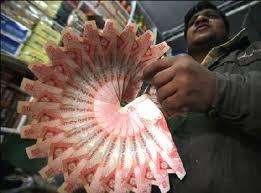 The rupee on Friday bounced back by 26 paise to end at 59.93 versus dollar as exporters and some banks sold the greenback, but steep losses in previous sessions forced the local currency to log its first weekly drop in three.

After ending at 59.72 last Friday, the rupee depreciated 21 paise this week which saw the Narendra Modi government present Railway budget and Union Budget.

The rupee on Friday resumed lower at 60.25 a dollar from previous close of 60.19 at the Interbank Foreign Exchange market.

It declined further to a low of 60.30 on early dollar demand from importers.

Later, the rupee rebounded to a high of 59.92 on renewed dollar selling by exporters and some banks before closing at 59.93, a net rise of 26 paise or 0.43 per cent.

On Thursday, it had tumbled by 44 paise or 0.74 per cent.

On Monday, the local unit had lost 29 paise.

The Indian benchmark S&P BSE Sensex today slumped by 348.40 points, or 1.37 per cent, extending losses for the fourth straight trading day.

FIIs had infused $166.01 million on Thursday.

Globally, the dollar index was quoting down by a mere 0.01 per cent against its major global rivals.

Pramit Brahmbhatt, Veracity Group CEO, said: "Rupee appreciated backed by dollar selling by corporates. Local equities closed down by almost one and half per cent, which capped the rupee's gain. The trading range for the spot rupee is expected to be within 59.50 to 60.50."

In the week ending June 27, the rupee had gained 10 paise.

In the subsequent week (ending July 4), the local currency rose 36 paise on Budget optimism.