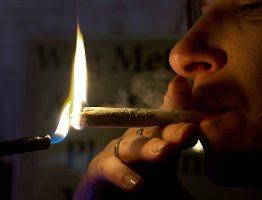 Just days after Kailash Satyarthi won the Nobel Peace Prize for his campaigns against child labour, photographs captured children with bare feet clearing waste from the Yamuna. A five-part series looks at the issues plaguing the rescue and rehabilitation of child labour.
Part 1: Child labour: Huge burden on tiny hands

Suman is barely 11 years old but her tiny fingers are skilled enough to roll bidis.

With her mother and sister-in-law, she carefully picks up a tendu leaf, fills it with tobacco and ties it.

Soon after coming from school, she skips going to the playground and helps her mother in the work.

Interestingly, Suman is not a child labourer, according to legal definition.

For, the laws do not cover children who help with family chores.

Suman isn't the only one.

Every house in the Achota village of Dhamtari district in Chhattisgarh has children who roll bidis but are outside the scope of child labour laws.

"We are four sisters and all help parents in making bidis since childhood," Durga Dewangan, Suman's elder sister, says. She started rolling bidis when not even 13.

Other sisters started the work when only seven or eight.

Suman is too young to figure the meaning of lost childhood.

But Durga, a student of second year in college, says her mother used to be on the job till midnight every day but could not roll more than 1,000 bidis.

At that time (about a decade ago), they were paid Rs 40 for every 1,000 bidis rolled. But the income of about Rs 1,200 a month was hardly enough for the family of six.

The easier option was to increase the production with the help of other members of the family.

The low wage to the bidi worker is one of the major reasons that prompted parents engaged in the work to draft their children, says Ajit Lal, state general secretary of the Centre of Indian Trade Unions.

Lal has been working for the welfare of bidi workers in Dhamtari district and campaigning for wage revision.

At present, bidi workers get Rs 75 for rolling 1,000 bidis, as fixed by the state government.

But children will continue to work unofficially till the wage is not revised further, Lal said.

The responsibility of employing children to roll bidis should also be put on industrialists who have no qualms about getting them rolled by children as long as the 'output' increases.

Officially, there is not a single child labourer in Chhattisgarh's bidi industry.

The units are involved only in final processing and packaging of the product, while the main work of rolling bidis is outsourced or given on contract.

In practice, it means the industry provides tendu leaves, tobacco and thread to workers to roll bidis from homes.

"Allowing closure of bidi factories was a big mistake.

"The state government must ensure the factories restart with regular employees and workers," said Arun Choubey, former president of Chhattisgarh Labour Welfare Board.

Bidi unit owners are cleverly evading the provisions specified under labour laws on the pretext that they do not have regular employees, he says.

According to Choubey, the authorities are aware that a good number of children are engaged in rolling bidis but they are helpless.

A labour department official says children are only helping their parents who are registered bidi workers and, hence, cannot come under the ambit of law.

"Whom should we take action against?," asks the official.

"We will conduct a fresh survey to identify children helping their parents as the job is hazardous," Shatabdi Subodh Pandey, chairperson of the State Commission for Protection of Child Rights, said.

The commission also plans to launch an awareness campaign on the impact of rolling bidis on health.

But some people argue that rolling bidis in open spaces does not have any adverse impact on one's health.

If it is done in covered areas like factories, the tobacco dust will adversely affect health, says a senior official in the ministry of labour.

He said, till a couple of years ago, tuberculosis was common among bidi workers.

But in past one year, not a single patient with such symptoms has approached the three dispensaries that the ministry runs in the state for bidi workers.

That, however, is small consolation for children like Suman.
Photograph: Toussaint Kluiters/Reuters