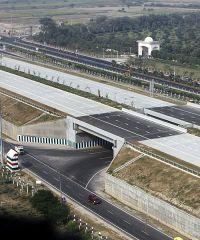 To fast-track awarding of projects, the Cabinet Committee on Economic Affairs on Wednesday empowered the ministry of road transport and highways to amend the model concession agreement (MCA) as and when required and to decide the mode of delivery of projects.
This means, the ministry can now decide on key issues related to the national highways.
Earlier, an inter-ministerial group (IMG) used to take decisions on modifications in the bidding documents for road projects and decide on the approvals for changing the mode from private to government funding or otherwise.
If the proposal got stuck in IMG, it would go the Cabinet, which created unnecessary delays, a senior ministry official said.
Owing to the general slowdown in the economy, private players have been reluctant to take up road projects, which necessitated the change of mode in various projects from build-operate-transfer to engineering, procurement and construction.
MCA is a legal contract, which prescribes the terms and conditions for executing a road project.
The National Highways Authority of India, which comes under the roads ministry, awards and constructs national highway projects.
A government statement said that users of national highways from all over the country could benefit from speedy implementation of road infrastructure projects.
Increased connectivity with far-flung areas would result in increased economic activity, leading to the upliftment of the socio-economic condition of the entire nation, the statement added.