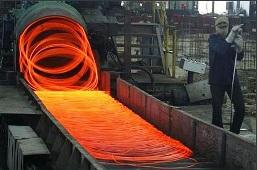 State-run Rashtriya Ispat Nigam plans to increase capacity at its Vizag plant to 20 million tonnes per annum by 2022-23, making it the largest plant at a single location.

"RINL has chalked out its long-term directional plans to expand the capacity of liquid steel to 20 mtpa in phases by 2022-23 to maintain its position in the Indian steel market," the company has said in a recent presentation to a consultative committee.

"In line with the above plan, consultant has already been appointed for the next phase of expansion to 11 mtpa wherein the company will diversify its portfolio to flat products. The draft feasibility report has already been prepared and is under consideration for approval," it added.

RINL is in the process of adding steel-making capacity at its lone facility in Vizag through revamping its existing blast furnaces, converters, sinter plant and others to take its 2.9 mtpa existing capacity to 7.3 mtpa by 2014-15.

The existing Vizag facility is housed only on a fraction of the total 19,600
acres of land bank that the company owns.
RINL would put up additional capacity in the same plant trying to cash in on its proximity to two ports, excellent road and rail linkages and international airport.
"It (the Vizag facility) has the potential to become the largest capacity single location plant in India," RINL said.
The state-run steel maker, however, did not mention the amount of investment it would have to make to reach to the 20 mtpa capacity.
According to industry thumb-rule, it generally requires $1 billion investment.
RINL is now the second-largest state-run steel maker in the country following Steel Authority of India.
SAIL is in the midst of expanding crude steel production capacity to 21.40 mtpa from 12.84 mtpa now with Rs 72,000 crore (Rs 720 billion) investment.
On top of this, it plans to invest Rs 1.31 lakh crore (Rs 1 .31 trillion) to raise capacity from 21.4 mtpa to 45 mtpa.