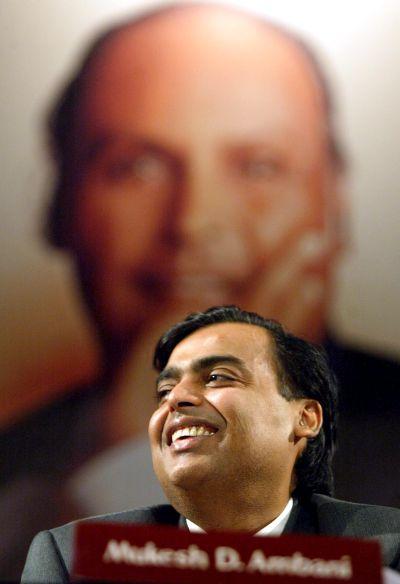 The Mukesh Ambani-led Reliance Industries Ltd and its foreign partners, BP Plc and Niko Resources, may have to pay a penalty of more than $ 1 billion for commercially using the migrated gas from the block of state-run Oil and Natural Gas Corporation (ONGC) in the Krishna-Godavari basin.
According to a source close to the development, the government is set to come out with a notification in this regard by the end of this week. Last month, the ministry of petroleum and natural gas had asked the Directorate General of Hydrocarbons to calculate the penalty needed to be charged from RIL for using migrated gas, after a report by the A P Shah committee found the operators guilty. The Shah panel had recommended that compensation imposed on RIL and its partners for "unjust benefit" received through migration of gas.
DGH, technical arm of the petroleum ministry, had already given its report calculating the amount of penalty, which was in the range of $ 1-1.5 billion, said an official. When contacted, an RIL spokesperson refused to comment and said the company's action on the case would be decided once official information arrived from the government.
According to initial estimates, natural gas worth around Rs 11,000 crore migrated from ONGC's 98/2 area to RIL's fields. However, sources indicated that the DGH had taken the capital and operational expenditure incurred by RIL into account before coming up with a final figure. It is likely to have deducted the royalty, cess and profit petroleum that the contractors have paid the government on the gas produced so far. The estimate of ONGC's loss was based on a gas price of $ 4.2 per million British thermal unit.
Jul 2013: ONGC alleges that Reliance Industries intentionally extracted gas from its blocks in KG-D6
May 2014: ONGC moves Delhi HC and states that its Godavari Block and discovery block KGDWN-98/2 are contiguous to RIL-owned KG-D6
Nov 2015: Consultant D&M submits report, establishes that over 11.2 billion cubic meters of gas had migrated from ONGC's idling KG fields
Dec 2015: A P Shah panel set up to look into legal implications
Aug 2016: Shah panel's report confirms migration of gas from ONGC's fields to RIL
Sept 30: Govt accepts Shah panel report in totality
The Shah panel had stated that it faced limitations in providing a figure to the final value of the migrated gas produced by RIL during the term of its lease because of the lack of data and the committee's inherent technical limitations. A report submitted by DeGolyer and MacNaughton (D&M) in November 2015, too, had stated that about 11.12 billion cubic metres (bcm) of natural gas had migrated to the RIL fields from ONGC's idle fields. According to D&M's report, the reservoirs in ONGC's KG-DWN-98/2 (KG-D5) and the Godavari-PML are connected with the Dhirubhai-1 and 3 (D1 and D3) fields located in the KG-DWN-98/3 (KG-D6) block of RIL.
The Shah panel report also said RIL had knowledge about the possible migration in 2003, while ONGC, too, had prior understanding about the continuity way back in 2007. Petroleum Minister Dharmendra Pradhan had said there would be an internal inquiry regarding the prior knowledge on migration of gas by both companies. On September 30 the petroleum minister said the government had accepted the Shah panel report in totality and the DGH would come up with a penalty figure by the end of October.
The panel had said ONGC was not entitled to receive a share of compensation that RIL and its partners would pay because hydrocarbons were a national asset. When asked whether ONGC would challenge this, ONGC Chairman and Managing Director DK Sarraf said, "Our stand is that gas migration has been proved through the reports of the Shah panel and D&M reports."
Image: RIL chairman Mukesh Ambani. Photograph: Reuters.