Strong refining and petrochemical margins seen boosting consolidated net by up to 6%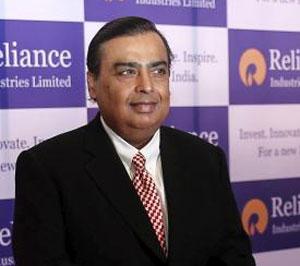 Reliance Industries (RIL) is expected to post a 5-6 per cent increase in its first quarter (consolidated) numbers as it benefits from strong refining and petrochemical margins. Standalone net profit could be up between 11 and 12 per cent year-on-year. RIL will post its April-June quarter results on Friday.
A Bloomberg poll of 8 analysts has forecast net profit of the company at Rs 6,211 crore (Rs 62.11 billion), against Rs 5,957 crore (Rs 59.57 billion) during the first quarter of this fiscal year, a growth of 4.2 per cent year on year (y-o-y). Net sales is expected to come in at Rs 67,807.5 crore (Rs 678.07 billion). RIL has, since the begining of financial year 2014-15, begun reporting numbers on a consolidated basis.
"With 12 per cent year-on-year profit after tax growth, we expect another good quarter for RIL and a strong quarter for both refining and petchem businesses," said Nomura Research in its report.
With gasoline cracks being strong and Indian refiners benefiting from discount offerings by middle-east producers, RIL's gross refining margins (GRMs) are expected to come between $9.3-9.5 per barrel driven by higher product cracks. GRMs is earnings from turning every barrel of crude oil into fuel.
During the quarter Brent crude averaged at $62 per barrel while Singapore complex GRMs declined by $0.5 per barrel to $8 per barrel. RIL's refineries have traditionally, enjoyed $3-4 per barrel premium over Singapore GRMs.
"India complex refining margins have surged year-on-year but are down quater-on-quarter. We have therefore assumed RIL's GRMs at $9.3 per barrel, up 7 per cent year-on-year (y-o-y) and down 8 per cent quarter-on-quarter (q-o-q)," said Edelweiss in its report. Arab Heavy-Dubai crude spread was at $3.8 per barrel, up y-o-y from $3.2 per barrel in first quarter of last fiscal.
Bank of America Merrill Lynch said the trend of inventory loss which weighed on GRM in second half of last fiscal is likely to reverse. "As such, we expect premium to Singapore GRM to hold flat q-o-q at $1.5 per barrel."
On the petrochemical front, analysts said the segment can again surprise this quarter. Petrochemical performance will improve on higher cracker margins. Naphtha cracker margins have improved sharply, 62 per cent y-o-y and 57 per cent q-o-q driving strong earnings in the segment.
"We expect RIL's petrochemical EBIT to be up 39 per cent y-o-y on robust product margins, both in polymers and polyester, and higher volumes," Bank of America Merrill Lynch said.
Petchem numbers would be aided by improved cracker margins due to high ethylene and propylene contract prices. In polyesters intermediate segment, paraxylene (PX) and purified terephthalic acid (PTA) margins improved while mono-ethylene glycol (MEG), margins declined due to higher feedstock ethylene prices.
"Polyester margins declined across the board but for an integrated player like RIL, we believe overall margins will expand, offsetting the small decline in refining margins," said JM Financial Institutional Securities Limited in its report.
On the exploration and production front, analysts expect further decline in profits with declining production and lower domestic gas prices. According to BoFMA domestic E&P EBIT is expected to be down 49 per cent y-o-y mainly on 43 per cent y-o-y lower oil price and 14 per cent lower oil and gas production offset by 23 per cent higher gas price.
On the retail front, EBIT is expected to rise by 30 per cent y-o-y.