UK's BP plc has relinquished or surrendered nine out of the 21 oil and gas blocks where it had bought 30 per cent stake from Reliance Industries for $7.2 billion, due to poor hydrocarbon prospects.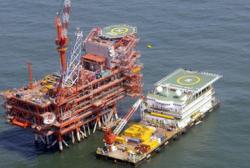 BP had last year bought 30 per cent stake in a total of 23 oil and gas blocks of RIL including the gas discovery areas of KG-D6 and NEC-25. The cabinet had however approved of BP taking stake in 21.

Sources said that after initial assessment, RIL-BP have given up nine out of the 21 blocks their joint venture had.

The joint venture is currently focused on reviving the flagging eastern offshore KG-D6 fields and bringing the Mahanadi basin NEC-25 discoveries to production.

Declining to comment on the relinquishment, BP India head Sashi Mukundan said, "We want to focus on quickly increasing production and
finding more oil and gas".
He said output from the main Dhirubhai-1 and 3 (D1 and D3) gas fields in KG-D6 block would increase in 2015 after the joint venture puts up additional gas compression facilities and revives some of the six closed wells.
D1 and D3 fields have seen output fall from 53-54 million standard cubic meters per day achieved in March 2010 to 21-22 mmscmd currently as one-third of the wells ceased due to high water and sand ingress. Together with 5.5-6 mmscmd of output from MA field in the same area, the KG-D6 is currently 26.5-27 mmsmcd.
"We are still hopeful of increasing production from D1 and D3 by 2015," he said, adding that satellite fields around the main producing areas would be put on producing beginning 2016. Besides D1 and D3 and MA, KG-D6 has 16 more gas discoveries".
Mukundan said RIL-BP is working on sequencing the gas discoveries towards raising production.