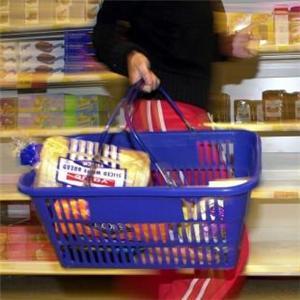 The retail sector is feeling the pinch of economic slowdown as customers cut spends on discretionary items such as apparel and durables, amid lower salary hikes and high inflation. Shoppers are now saving every rupee they can, say retailers and consultants.

"There is a stretch. It can be seen in the mood of consumers.

"They are careful about what they buy," says Vishak Kumar, chief executive, supermarkets, Aditya Birla Retail Ltd.

Like other food and grocery chains, Birla Retail is aggressively pushing its private labels and large packs to woo customers. Besides offering value, private labels push retailers' margins.

"We have been growing. But if the economy was better, we would have grown better," Kumar adds.

While Birla Retail is yet to break even, earnings of top retail companies such as Raheja-owned Shoppers Stop Ltd, Kishore Biyani's Pantaloon Retail (India) Ltd, Tata-owned Trent Ltd and Arvind Ltd have seen yo-yo growth in profit and sales in the third quarter, compared to the year-ago period.

Same-store sales growth of retail chains, a key indicator of performance, has also indicated slowdown. SSS growth refers to the growth coming from stores in the business for a year or more.

The SSS growth of Pantaloon Retail in value terms declined 0.2 per cent in the September quarter, the highest in the last 15 quarters. SSS growth in the home segment saw a dip of 3.5 per cent, while lifestyle was better at 10.8 per cent.

The company said it was due to shift in the festive season from September to December. Pantaloon is set to announce results on February 25.

Even Jubilant FoodWorks Ltd, the franchisee of Domino's and Dunkin' Donuts in India, has seen its SSS growing 16 per cent in the third quarter, compared to analysts' estimate of 20
per cent. Shoppers Stop stood out with 13 per cent SSS growth in the third quarter.
However, analysts expect SSS growth of retailers in mid singles in the coming quarters.
According to the recent India Consumer Survey by Credit Suisse, shoppers are cutting spending on discretionary items such as apparel and consumer durables, wanting more value in their shopping baskets.
"Consumers are clearly more worried.
"Compared to last year, more people expect lower salary increases and personal finances to worsen, making it a bad time for large-ticket purchases," the survey said.
Retailers agree with the findings. "We have witnessed slowdown for a year now and I expect this to continue because there is no change in indicators such as inflation," said Suresh J, managing director and chief executive at Arvind Lifestyle Brands and Arvind Retail.
Rising for a fourth consecutive month, retail inflation remained in double digits at 10.79 per cent in January.
Arvind has broad-based its portfolio by acquiring the rights of Debenhams and Next. Recently, it entered into agreements with Hanesbrands and the Iconix group to open their stores in the country.
Players such as Provogue revamped their stores and refreshed merchandise after sales dwindled.
"Today, we are seeing SSS growth of 15 to 20 per cent only because we revamped our stores. Otherwise, growth numbers were down 10 per cent," said Nikhil Chaturvedi, managing director, Provogue.
While the 2009-10 slowdown was more at a sentimental level, this time it has a visible impact on retailers' sales, according to consultants.
"A large number of retailers' growth rates have come down substantially, and some are experiencing flat/ negative growth," says Saloni Nangia, president, Technopak Advisors.