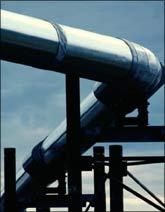 Reliance Industries Ltd will pick up a 67 per cent stake in Krishna Godavari Gas Network Ltd (KGGNL), a joint venture promoted by the Andhra Pradesh government, for undertaking city gas distribution in the state.
RIL has sought time to meet Chief Minister Rajasekhara Reddy between August 11 and 14 to sign the shareholders' agreement to this effect, according to the state economic adviser, D Somayajulu.
Gujarat State Petroleum Corporation, IDFC Private Equity Company Ltd and the state-owned Infrastructure Corporation of Andhra Pradesh will be the other shareholders in KGGNL, with 11 per cent each.
Somayajulu said KGGNL was floated for putting up a network of pipelines across AP, starting with the state capital, for the supply of domestic gas. The entire piped gas distribution network across the state is expected to cost Rs 1 lakh crore (Rs 1 trillion), including Rs 3,500 crore (Rs 35 billion) for distribution in Hyderabad.
The state-owned AP Industrial Infrastructure Corporation also has a nominal stake in Bhagyanagar Gas Ltd, a joint venture of HPCL, GAIL (India) Ltd and Kakinada Seaports Pvt Ltd. Bhagyanagar Gas has also been set up for undertaking piped gas distribution in the state.
Following commercial gas production from the K-G basin by RIL from March 24, the total requirement of the existing gas-based projects in the state was being met, Somayajulu told journalists in Hyderabad on Friday.
The Empowered Group of Ministers (EGoM) of the Union cabinet had allocated 7.7 million metric standard cubic metres per day (mmscmd) to the state out of the 40 mscmd being produced by RIL in the first phase.
An additional 2.3 mscmd, allotted to other states but which remain unutilised for various reasons, is also being utilised by power projects in Andhra.
The state government proposes to represent to the EGoM to allot the 2.3 mscmd, which is now being utilised by the state units temporarily, on a permanent basis and also allot an additional 8.5 mscmd for the proposed 2,100 gas-based power project in Karimnagar district.