Industrialist Anil Ambani has said his group's financial services arm Reliance Capital plans to globalise its operations in the next 3-5 years and expand its customer base 2.5 times to 50 million in this period.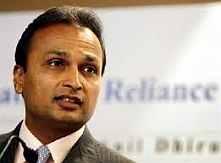 "We have drawn up exciting growth plans for the next three to five years," Reliance Capital Chairman Anil Ambani said in his annual letter to shareholders.

The plans include increase in Reliance Capital's customer base from 20 million to 50 million, expansion of distribution reach from five thousand to 25 thousand cities and towns and increase in the number of business partners from half a million to one million, he said.

Ambani further said Reliance Capital would globalise operations by leveraging its domestic experience and capabilities to expand its asset management and wealth management businesses in emerging markets across the world.

"Together these initiatives will further accelerate our growth and lead to substantial value
creation for all," he said.
Ambani further said that Reliance Capital, which is present in businesses like insurance, mutual fund, brokerage, commercial and home finance and investment banking among others, maintained its focus towards improving operating performance in 2011-12 despite a backdrop of slowing economic growth in the country and tough global environment.
"Our company is India's one of the largest non-banking financial services company... the Reliance Group touches the life of one in every five Indians, every single day," he said.
Besides financial services, Ambani-led Reliance group is present in businesses like telecom, power, infrastructure, media and entertainment.
Ambani further said that Reliance Capital's total income rose 21 per cent to Rs 6,627 crore (Rs 66.27 billion) in the last fiscal, while net profit rose 57 per cent to Rs 458 crore (Rs 4.58 billion).
Its total assets rose 10 per cent to Rs 35,343 crore (Rs 353.43 billion), while net worth grew by 50 per cent to Rs 11,697 crore (Rs 116.97 billion) in 2011-12.