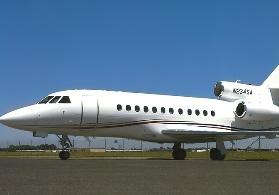 Coming down heavily on aviation safety violations, DGCA on Saturday grounded a business jet owned by Reliance Industries for carrying expired safety equipment on board and suspended its pilot for flying without a licence.
The aviation regulator, which carried out surprise inspection at Delhi's IGIAirport this afternoon, also searched Jindal Steel and Power Limited's Global Express BD 700 aircraft and found several major lapses, official sources said.
While action against Jindal's company would be decided on Monday, the Reliance aircraft was grounded immediately, just before it was slated to take off from here, they said.
The action comes at a time when private planes and helicopters are being heavily used as charters to fly political leaders across the country on poll campaign.
The sources said that a 14-seater Falcon 900EX, with call-sign VT-ISH and registered in the name of Reliance Commercial Dealers Limited, was grounded after it was found
that most safety equipment on board, including a fire extinguisher and personal breathing equipment, were beyond expiry dates. The cabin compartment containing escape rope was found to be jammed, they said.
The commander of the aircraft was also not carrying his licence when he was asked to show one, they said, adding that the plane was grounded. The co-pilot too was not in possession of certain documents which are to be mandatorily carried.
Taking serious note of the violations, DGCA chief Prabhat Kumar directed that the aircraft would remain grounded till the deficiencies were removed and all equipment replaced with new ones, the sources said.
The 13-seater Global Express BD 700 aircraft (VT-JSB), owned by the Jindals, carried operations manuals of other aircraft and not its own. It also did not have the list of safety and emergency equipment on board, the sources said.
Though this aircraft is not certified for ETOPS (Extended Range Twin Operations), ETOPs certification was found signed by aircraft maintenance engineers, they said.
Noting that there were several other serious deficiencies, the sources said most of the findings were "significant" and "appropriate action" would be taken after further verification of records on Monday.
Commenting on the captain flying the Reliance aircraft without a licence, the sources it was a prima facie case of violation and the pilot was suspended immediately.
Following the downgrade of Indian aviation safety system by the US Federal Aviation Administration (FAA) on January 31, the DGCA has been conducting such surprise checks on a regular basis, apart from taking other action so that it can restore its top-most safety rating as soon as possible.
During its inspection, the FAA, apart from finding several other safety deficiencies, had also pointed towards some facing the planes of Reliance Commercial Dealer Limited, including that they were operating without carrying out proving flight readiness checks.
The downgrade means that Indian carriers would now not be able to add flights to the US Aircraft of the two Indian airlines that fly there - Air India and Jet Airways - can be be held up there to carry out additional checks there which could make it difficult for them to maintain schedules.