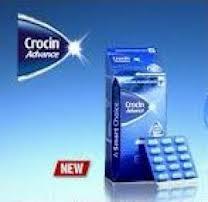 GlaxoSmithKline's fast-relief analgesic, Crocin Advance, might cause pain to the company.

Rejecting its plea to exempt the medicine from price control, the National Pharmaceutical Pricing Authority is instead set to penalise GSK Consumer Healthcare for overcharging consumers by selling the drug at over double its maximum retail price as fixed by the regulator, official sources said.

NPPA has told GSK to immediately reduce the market price of Crocin Advance and give a compliance report. Currently, Crocin Advance paracetamol fast release 500 mg is priced at Rs 30 for a strip of 15 tablets, whereas the price of paracetamol 500 mg is capped at 94p for a tablet or around Rs 14 for a strip of 15.

The NPPA letter was issued to GSK on Wednesday.

The letter, reviewed by Business Standard, was also sent to Remidex Pharma, which manufactures Crocin Advance for GSK Consumer Healthcare in India.

The regulator plans to issue an overcharging notice to GSK Consumer Healthcare within the next few days and is likely to impose a hefty penalty on the company.

According to sources, NPPA had constituted an experts' panel headed by K K Bhutani, director of the National Institute of Pharmaceutical Education and Research.

The committee also had doctors from Ram Manohar Lohia Hospital and the All India Institute of Medical Sciences in Delhi. The panel examined the application and rejected it.

GSK said it had yet to get official word from NPPA.

"We have been and will continue to be compliant with the law of the land," the company said. GSK had launched Crocin Advance in India in 2011.

It had claimed the product was a 'new drug', with optizorb technology which releases its medicine up to five times faster than ordinary paracetamol tablets, providing fast relief.


On this basis, the company sought exemption from price control, while also contending Crocin Advance was developed through indigenous research and development.
Under para 32 (iii) of the Drug Price Control Order, 2013, a 'new drug' developed through indigenous R&D can be kept out of price control for five years.
According to NPPA's letter, the product does not qualify for the exemption because "the formula and process technology were transferred from R&D Parsippany (in New Jersey, USA) to R&D India in May 2006" and the R&D centre in India is also not approved by the department of scientific and industrial research, as is required under the DPCO.
GSK Consumer Healthcare sells paracetamol under several over-the-counter brands such as Crocin, Crocin Advance, Crocin Pain Relief, Crocin Cold and Flu. It also has a baby and kids range of Crocin.
According to an official source, the company is planning to gradually stop selling the conventional Crocin brand while promoting the other brands, including Crocin Advance.
According to IMS Health data, Crocin Advance is currently the fifth largest brand among top paracetamol-based products.
Annual sales were Rs 10.3 crore (Rs 103 million) during the 12 months ended February 2014. Calpol, another paracetamol-based product marketed by GSK Pharma, tops the list with annual sales of Rs 84.3 crore (Rs 843 million).
On Thursday, shares of GlaxoSmithKline Consumer Healthcare ended at Rs 4,286.10 on the BSE exchange, down 0.3 per cent from Wednesday's close.
CROCIN GIVES GSK A HEADACHE
NPPA has asked GSK to immediately reduce the market price of Crocin Advance and give a compliance report to the regulator
Currently, Crocin Advance 500 mg is priced at Rs 30 for a strip of 15 tablets, whereas the price of paracetamol 500 mg is capped at 94 paise for a tablet or around Rs 14 for a strip of 15 tablets