The second phase of reforms recently announced by the UPA II, the global slowdown and the strengthening bilateral relationship between the US and India are expected to dominate a breakfast meeting between the visiting US treasury secretary Timothy Geither and Ben Bernanke, chairman US Federal Reserve and members of Indian industry and banks slated for Wednesday.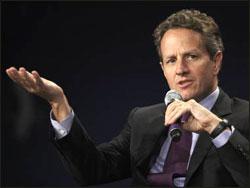 A team led by CII President Adi Godrej is expected to bring to Geither's notice the contributions made by Indian companies to the US economy through their investments, job creation and community engagement. He would also appeal to the US treasury secretary not to overlook contributions of Indian companies.
Godrej would be accompanied by Deepak Parikh, HDFC chairman, Chanda Kochar, ICICI Bank MD and CEO, Uday Kotak, Kotak Mahindra Bank vice chairman and managing director, Venu Srinivasan,chairman and managing director TVS Motors, Hari Bhartia, co chairman and managing director Jubilant Organosys, Shikha Sharma,MD and CEO Axis Bank and Rajiv Lall, vice chairman and MD IDFC.
A senior CII representative, who did not want to be identified,at the sidelines of its national council meeting  told Business Standard, "The timing of Geither's visit is crucial when it is an election year in the US and the UPA II has addressed policy paralysis by announcing  FDI reforms in multi brand retail, civil aviation, power trading exchanges and broadcasting.
The Cabinet also cleared increasing FDI in insurance sector to 49 per cent from 26 per cent and the opening of the pension sector to FDI in line with the insurance sector. Both the countries are committed to further increase trade and investments and thereby strengthen the bilateral relationship."
Another CII member, who is a major player in the infrastructure sector, hoped that the government's reforms measures would help attract more investments from the US investors especially when Indian needs Rs 56 lakh crore during next five years.
A leading industrialist from the retail sector said the government's decision to ease FDI norms especially in multi brand retail would help attract more investments which would ultimately benefit the consumers at large.
He said the entry of global players in multi brand retail would also help development of farm to shop chain and related infrastructure.
CII member associated with a leading bank admitted that the visit of Geither and Bernanke is scheduled when there are challenges posed by ongoing economic downturn.
However, he oped that both US and India would be able to sail through the present crisis due to economic reforms and bilateral relations.