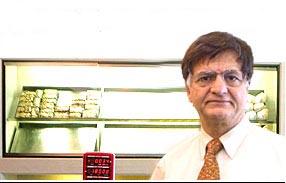 Mumbai-origin Gulam Kaderbhoy Noon, who migrated to Britain with little funds and went on to found several Indian food companies that made him known as Britain's first 'Curry King', died on Tuesday at the age of 79 after he surrendered in his battle against liver cancer.
Remembering this giant from the British-Asian community, Rediff.com reproduces an interview of the entrepreneur from 2002 in which he charts his rags to riches story.
Seventeen-year-old Gulam Noon had no experience whatsoever when he took over the responsibility of running the small, family-owned sweet shop at Mumbai's famed Crawford Market. His father was dead and there was no one he could turn to for guidance.
The 450 square feet shop proved fertile training ground for an impressive career. "My best memories are connected with this shop. It was from here that I left for London," says Sir Gulam Noon, chairman and managing director, Noon Products Ltd, the specialists in chilled and frozen ready-to-eat meals as he relaxes in a padded swivel chair at the Royal Sweet shop. "I am grateful to God for helping me achieve everything I wanted to."
All through his rags-to riches journey -- Sir Gulam is now one of Britain's vaunted multimillionaires -- he has retained his grasp on virtues like humility, simplicity and kindness. He has a healthy respect for Time and uses a personal diary to keep track of important meetings and notes. Yet his face is always wreathed in a smile and his conversational tone never rises above the level of soft. He does not believe in ostentatiousness; those who interact with him are never reminded of the fact that he has been knighted by the Queen of England.
When questioned about the controversy surrounding his title -- it was rumoured to be a reward for his generous donations to the Labour Party -- Sir Gulam rubbishes the allegations. "Every individual who believes in democracy has a right to donate. The money came from my personal account after I paid a 40 per cent tax on the same. Moreover, Prime Minister Tony Blair appointed a committee chaired by Lord Hurd and vice-chaired by Lord Thomson from the Liberal Party to select the names of those who would be honoured. It was this committee that selected my name.
"I am happy the prime minister's office defended me against these allegations. As did Robin Cook. In fact, I was felicitated on July 18 in the House of Commons dining room by members of both the Labour and Liberal Parties, Prime Minister Blair and a member of the European Parliament. Conservative Party president Ian Duncan Smith and Liberal Party president Charles Kennedy also sent their congratulations," he says.
Ask him about his formula for success, he smiles, "The most boring person is the one who tries to play safe. I believe in change and I am grateful that God was with me all the time in every decision I made."
Sir Gulam recalls how, after five years of selling sweets, he realised the business needed a new look. So he changed the name of the shop from Kamruddin Ebrahimjee to Royal Sweets. "Royal was a more cosmopolitan name and suited everyone. The other members of my family were none to happy with my decision -- they felt I should continue with the old name -- but I was adamant. I am sure my grandfather Ebrahimjee would have supported my decision after he saw the way business grew."
He then turned his attention towards the advertising, marketing and packaging of his products. As a result, Royal Sweets sports a modern look -- clean, bright and centrally-airconditioned; with two comfortable sofas for the use of its customers. "All these things put together worked liked magic," he says. Today, Royal Sweets has three stores in Mumbai -- the one at Crawford Market, one at Grant Road in south central Mumbai and the other at Bandra, northwest Mumbai. They specialise in Bombay Halwa (a rabri-like delicacy) and Malai Khaja (pastry filled withmalai), which is a popular product during Id.
Does he plan to introduce Noon Products in India? "I would love to put up a factory in India," he says, "but I feel it is impossible to maintain the food temperature -- which has to be constant from the time the product comes out from the factory to the time it reaches the consumer. The refrigeration process in India is not sophisticated as it is in developedcountries, where the temperature cannot be abused. This is why Noonsells 170,000 meals every day through various supermarkets."
Despite the successful life he has created for himself in London over the last 30 years, Sir Gulam cannot resist India's charms. In fact, he begins his day by reading Indian and British newspapers. Which could be why he is full of praise for the new flyovers built all across Mumbai.
At the same time, he is disappointed with India's rapidly increasing population, which he believes is the biggest barrier in the country's path to progress.
Sir Gulam has also been very critical of Gujarat Chief Minister Narendra Modi's role in the riots that savaged the state after the Godhra incident. "Who is not critical of Modi?" he asks angrily. "After all, I am of Indian origin. But I have great faith in India. The riots did not spread to Maharashtra and Rajasthan. It is now time for Gujarat to heal; for the hatred to be subdued. We have to work together for the next generation."
He makes it a point to visit India twice a year. "Meri dharti mujhe pukarti hai [I feel the pull of my motherland]. I feel very relaxed when I am here and like to meet different kinds of people." Though he owns a house in Bandra, he prefers to stay at the Taj Mahal. "This way, it is more convenient for me to travel around the city and meet people."
He also makes it a point to visit the twin towns of Bhawani Mandi and Sunel in Jhalwar district, near Kota in Rajasthan during his trips to India. "I have fond memories because, as a child, I used to spend a lot of time there. Which is why, every Christmas, I visit my hometown with my entire family to participate in our yearly get-together.
"The journey there takes 12 hours by train; the other option is to take a flight to Jaipur and drive from there. But I find travelling by train a more comfortable and enjoyable experience," he says.
Does he have a sweet tooth? "I like barfi and ras malai but allow myself to eat sweets only occasionally," he smiles.
Photographs: Jewella C Miranda. Design: Uday Kuckian