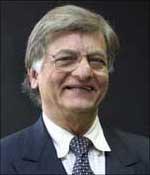 British food producer Bombay Halwa, promoted by leading NRI entrepreneur Lord Gulam Noon, has launched Royal Halal meals primarily targeting UK's Muslim community.

Royal Halal is a range of premium frozen ready-cooked meals that promises quality and the authentic taste of home-cooked food, Noon told reporters after the launch.

"Consistent with Bombay Halwa's philosophy of product innovation and evolution, the Royal Halal meals come in four distinct flavours -- Saag Chicken, Chicken Tikka Masala, Kadhai Chicken and Butter Chicken, with Baghara Rice as an accompaniment to all meals.

Talking about the new products, Lord Noon, chairman and managing director of Bombay Halwa, said the time was right for a premium quality Halal food product to be launched in the UK market.

"We have been closely surveying and monitoring the market for a few years now and know that the word Halal has become very buoyant in the Muslim community.

The Royal Halal dishes are mainly targeted this community, but are not necessarily only for them. These are indeed for anyone who likes quality meat dishes," he said.

As an accompaniment to these meals, Bombay Halwa has also launched 'Royal Paranthas'.

"These are as easy to toast as slices of bread and act as an ideal accompaniment to the Halal meals, or can be enjoyed by themselves as a snack," executive chef Jayan Nambiar said.
Image: Lord Gulam Noon | Photograph: Jewella C Miranda