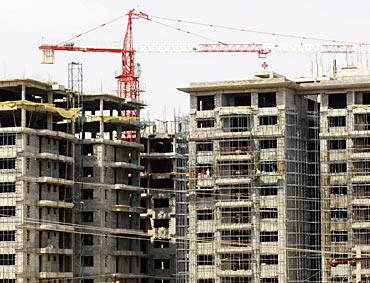 Signalling bounce back of the real estate sector after a prolonged slowdown, developers including Supertech and Ansal API, announced investments of nearly Rs 8,000 crore on projects over the next four years.
Moreover, companies such as DLF are looking to cut debt significantly in coming years, besides expecting better sales amid rising housing prices.
Realty firm Supertech said it will invest around Rs 5,500 crore in the next 3-4 years to develop residential projects and acquire land in North India. It is also targeting annual revenue of Rs 10,000 crore by 2015, from Rs 2, 500 crore at present.
"We have an ambitious plan to become a major developer in the country. We are going to invest around Rs 5,500 crore in the next 3-4 years to consolidate our position in the market," Supertech Chairman and MD R K Arora said.
He said this amount will be invested to develop housing projects and acquire land bank in NCR and Uttarakhand. The NCR-based Supertech at present has about 1,000 acres in the Northern states.
"We are continuously acquiring land. In the next 3-4 years, we will acquire a further 400-500 acres. It'll need a minimum investment of Rs 2,500 crore," Arora said.
Another National Capital Region-based realty firm Ansal Properties and Infrastructure announced an investment of about Rs 1,500 crore in 2013-14 as capex on construction of various projects across the country.
Ansal API Vice Chairman and MD Pranav Ansal also said the company, which currently has a borrowing of Rs 1,350 crore, will become debt-free in the next three years with the help of internal cash flows.
"We are increasing the capex to complete the existing projects to Rs 1,400-1,500 crore next fiscal from Rs 1,000 crore in this year," he said.
He also said the company will reduce its current debt of Rs 1,350 crore to Rs 1,100 crore by the end of this fiscal.
"The debt will come down to about Rs 800 crore during the next financial year... We are aiming to become a debt-free company within next three years. We are not raising any debt at this moment and are repaying our existing borrowings from internal cash flows," Ansal said.
Mantri Realty said it will invest up to Rs 750 crore to develop three new housing projects in Maharashtra and Karnataka over the next 2-3 years. The company's Chairman Sunil Mantri said these projects will be launched next year.
The company is developing 10 projects at various locations, mainly in Western India.
The country's largest realty firm DLF said it will launch 3-4 projects in Gurgaon by March 2013 and will also reduce debt significantly from sale of non-core assets and improved cash flows.
"We will be launching 3-4 projects in Gurgaon, which will give DLF a sales realisation of about Rs 15,000 crore over the next 3-4 years," DLF Group Executive Director Rajeev Talwar said on the sidelines of a Naredco convention on sustainable housing for masses.
He said the company is expecting to raise up to Rs 3,000 crore from sales of luxury hotel chain, Aman Resorts and wind energy businesses.
Talwar expressed confidence that the company will "certainly" meet its debt reduction target to Rs 18,000 crore by March 2013.
Since 2008 global economic crisis, real estate developers in India have been facing demand slowdown, leading to drop in their profits.
Adding to their woes, developers' interest outgo increased substantially due to huge debt taken to run operations and create assets.