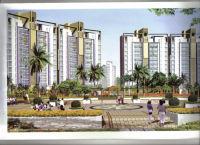 Real estate company Ansal Properties and Infrastructure said on Thursday it has sold nearly 17.5 million square feet of space worth Rs. 1,880.53 crore (Rs. 18.805 billion) during this fiscal across various cities in north India.
According to an investor presentation, Ansal API has received bookings for 1.66 million sq ft of spaces in January with a sale value of Rs. 166.74 crore (Rs. 1.667 billion).
"The total sales booked in 10 months in FY11 increased to 17.47 million sq ft, aggregating to sale value of Rs. 1,880.53 crore (Rs. 18.805 billion)," Ansal told the investors.
The company received highest bookings for 9.6 million sq ft in its largest township, Sushant Golf City, in Lucknow.
Another township Esencia in Gurgaon contributed 2.52 million sq ft to its total sales booked in April-January period.
Sushant Golf City is a 3,530-acre hi-tech township, while Esencia is being developed in 112 acres of land.
When contacted, Ansal API Assistant Vice-President (Investor Relations) Dinesh C Gupta said: "We are seeing very good demand for our project. So far, we have received nearly Rs. 600 crore (Rs. 6 billion) from the bookings and the rest is expected over the next 30 months."
Out of the total sales, plots contributed 8.87 million sq ft, while villas and group housing projects accounted for 4.37 million sq ft, the presentation said.
The company currently has a net land bank of over 8,500 acres in various locations across the country.
In January, it received bookings for 1.66 million sq ft, aggregating to sales revenue of Rs. 166.74 crore (Rs. 1.667 billion).
"Major chunk of the sales were booked in Sushant Golf City of 0.97 million sq ft and in Esencia 0.21 million sq ft," the company said.
Ansal API is currently in the process of raising up to Rs. 350 crore (Rs. 3.50 billion) in 2011 from private equity players by diluting its stake at various projects to fund its ongoing constructions.
Last year, the company had raised Rs. 231 crore (Rs. 2.31 billion) through private placement of shares to institutional investors to reduce its debt and execute ongoing projects.
Ansal API has reported a 4.81 per cent jump in its consolidated net profit for the quarter ended December 31, 2010, at Rs. 32.93 crore (Rs. 329.3 million) compared to Rs. 31.42 crore (Rs. 314.2 million) in the corresponding period previous year.
The consolidated total revenue during the third quarter of this fiscal increased by 6.50 per cent to Rs. 353.17 crore (Rs. 3.531 billion) from Rs. 331.60 crore (Rs. 3.136 billion) in the year-ago period.
Shares of Ansal API closed the day at Rs. 41.05 per share on the Bombay Stock Exchange, up 2.11 per cent from the previous close.