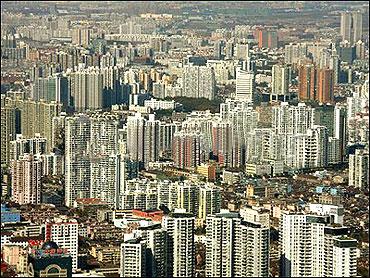 Real estate companies are looking beyond brick and mortar.

Signalling a new phase of diversification, developers are venturing into film production, Bollywood music, TV documentaries and even the food business.

Gandhi to Hitler, a movie released last year, was an Amrapali Group production.

Although the film, starring Neha Dhupia and Raghubir Yadav, was not quite a box office success, real estate company Amrapali is producing another movie, I don't love you, this year.

"Movies are a medium through which we can reach common people, which is otherwise difficult for a real estate player", said Anil Kumar Sharma, chairman of the Group.

He admitted there was no profit from the movie made last year, but said the cost could be recovered. "We hope to earn some profit this time, a share of which will go towards corporate social responsibility."

Maintaining that profit was not the goal, he said Amrapali had invested Rs 10 crore (Rs 100 million) in his first movie, screened at the 61st Berlin International Film Festival.

The company is again investing Rs 10 crore (Rs 100 million) in its upcoming movie under the Amrapali banner, with Ruslan Mumtaz in the lead role.

But, says Sharma, spending on advertisements is much more expensive than making movies.

"International advertisements are very expensive, but through movies, our real estate business gets a global reach," he said.

Another realty player, Raheja Developers, already has a wildlife programme, Wilderness Days, running on Doordarshan.

The company has got a 52-episodes contract for this weekly programme. It's investing Rs 10 lakh (Rs 1 million) for each episode.

"We love nature and wildlife photography.

This really drove us into doing a programme on animals. We have people deployed in various national parks and sanctuaries for the shoot," said Nayan Raheja, director.

At
present, the Rahejas are not earning any revenue from the TV debut but is looking forward to it becoming a profitable venture.
Nayan is fond of wildlife photography himself, while his father, Navin Raheja, managing director, writes on wildlife and animals in various magazines.
Talks are also on for a tie-up with international wildlife channels for their documentaries.
Nayan Raheja has also planned to venture into the music industry.
His first music album is half-ready, he says.
"It is more to do with my interest than anything else," he adds Nayan has been playing the classical guitar for 14 years and has done it all for his first album, from singing and composing to writing.
The Amrapali Group has expanded into the food products business as well, under Amrapali Biotech India, with the brand name MUMs.
It has been on for some time and is into packaged food such as jams, pickles, ketchup and cornflakes.
"We source raw materials directly from the farmers, then process, pack and sell it. Our price is much lower than the market price of similar products available," said Sharma of Amrapali.
The company has invested Rs 120 crore (Rs 1.2 billion) into the food business and set up two units, in Bihar and Varanasi.
"The turnover so far has been Rs 100 crore (Rs 1 billion) and we are hoping for breakeven soon, as our products are available in retail outlets like Big Bazaar and Vishal megamart," said Sharma.
But, why did the real estate company get into food?
"In India, a lot of agriculture produce goes waste, so we are seeing a bright future in the food processing industry".
In fact, it has planned another food processing industry, in Rajasthan.
Another developer, Supertech has sponsored an Indian Premier League cricket team, Rajasthan Royals. It is also looking to diversify.
"We may buy an IPL team or get into movie production in the future if we see a good opportunity, said R K Arora, chairman.