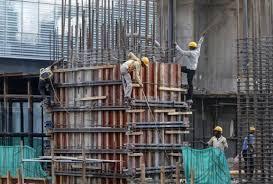 Realtors' apex body CREDAI on Tuesday expressed disappointment at the RBI's decision to keep the key policy rates unchanged, saying the country cannot afford any more delay in pushing the economic growth.
Real estate developers sought reduction in interest rates in future to boost housing sales.
Builders also expect some relief and tax reforms in the upcoming Budget.
Commenting on the RBI policy, India's largest realty firm DLF group Executive Director Rajeev Talwar said: "It seems that RBI is waiting for the government to take action in the Budget. Otherwise there are lots of reasons to lower the cost of money for doing business".
"We are looking forward to lowering of rate in the future," he added.
CREDAI Chairman Lalit Kumar Jain said the "nation cannot afford any more delay in accelerating the economy's growth".
The RBI should soon address the serious issue of liquidity crunch and funding of ailing realty projects, he demanded.
CREDAI President C Shekar Reddy said: "Considering the overall economic situation and challenges faced by industry, we were hopeful that RBI would continue the initiative taken in January with a further reduction in policy rates."
"The home buyers are upbeat but in a wait and watch mode due to high prevailing interest rates," Reddy added.
He, however, welcomed the move to reduce the SLR rates, a move that will help banks to increase lending.
Global realty consultant CBRE South Asia Chairman & MD Anshuman Magazine said: "This was largely expected by the industry, given that the RBI had already initiated rates cuts in early January."
"I see this as a prudent move on the part of the Central Bank to wait and watch for the market to react to the current positive macro-economic climate in the country."
RICS Global Managing Director – Emerging Business and MD (South Asia) Sachin Sandhir said the RBI's move to keep the key policy rates unchanged comes on the expected lines, as falling inflation and lowering fuel prices have provided the much needed relief to the economy.
Seeking reduction in interest rates, Parsvnath Developers Chairman Pradeep Jain said the "real estate sector is facing a paradoxical situation.
On one hand it has a surplus inventory produced at a higher input cost, on the other buyers today do not enjoy much purchasing power due to high interest rates."
Omaxe CEO Mohit Goel felt that RBI should be aggressive with rate cuts and also impress upon banks to reduce lending rate in equal measure.
Supertech CMD R K Arora said the sector is optimistic of a reasonable interest rate cut in the near future as well as tax benefits in the coming annual budget and thus helping the real estate sector to come out of the present recessionary trends.