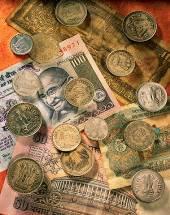 In a move that could help make the rupee an international currency, the Directorate General of Foreign Trade has proposed to allow export benefits to any exporter who gets receivables in rupees from its international counterpart.

This decision is based on the precedent in the case of Iran where DGFT last week allowed export proceeds realised even in Indian rupees to be made eligible for export benefits and incentives under India's foreign trade policy.

However, there is one rider: It will not be allowed in the case of neighbouring countries with whom India maintains porous borders.

Currently, even if Nepal and Bhutan can transact with India in Indian rupees, exporters with rupee receivables from there are not entitled to export benefits from the government.

This decision will require an amendment in the FTP, which stipulates that all export contracts and invoices shall be denominated either in freely convertible currency or in Indian rupees but export proceeds must be realised in the former.

Only then would such exporters be eligible for export incentives and benefits.

"The move, if it fructifies, will be to make the rupee at par with other freely convertible currencies. Second, Indian exporters need not depend on payments in international currencies if the country importing from India is ready to make rupee payments," said an official source.

Added other sources: "India has trade partners in Asean, Far East Asian countries, African and Middle East countries, and is trying to diversify more into these, as much as to the United States or European countries.

Rupee payments may take care of some part of the Indo-Asian/Middle East 
trade.
"If problems like Iran continue, this mechanism will be helpful even if Iran is importing much less than exports," said official sources.
They explained if, for example, Iran is receiving rupee payments, then it could pay these to another country from which is importing goods. That country in turn could make the rupee payments to India, if it is an importer of Indian goods.
Thus, rupee payments could take care of such trade without entering into the international settlement system, thus, not violating any international payment sanctions, official sources add.
Last week's decision in Iran's case was taken under current uncertainties in the case of oil payments after sanctions imposed by the US, EU and now the United Nations.
These sanctions have made clearing through international payment systems impossible.
Iran runs a favourable trade balance with India, where exports of crude oil to India far surpass the imports from India.
To partly solve the payment problem, it was settled that Iran may use the receivables to pay for the commodities it could buy from India. These receivables would be maintained in an account of an Indian bank and invested in Government of India securities.
Indian exporters have been facing trouble in getting payments cleared from Iran on their rice exports. Officials say exporters can get their receivables in rupees and still be eligible for export benefits.
Union Budget 2012-13: Complete coverage