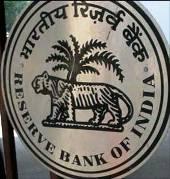 The Reserve Bank of India is likely to keep policy rates unchanged in its monetary policy review next week, although inflation for the second the second consecutive month in November has declined, experts have said.

They also said that a CRR cut of 0.25 per cent is likely.

"The decline in core inflation is welcome and will provide some comfort to the RBI, but the November uptick in CPI inflation and the firm HSBC PMI price readings suggest that we are not out of the woods yet," HSBC Chief Economist for India and ASEAN Leif Lybecker Eskesen said in a research note.

Wholesale price based inflation eased to 7.2 per cent in November as against 7.5 per cent in October on account of a decline in fuel and core inflation.

According to HSBC, the RBI will keep the policy rate on hold next week, although it is likely to cut the CRR by 0.25 per cent to address the lingering liquidity tightness.

Barclays Capital Economist Siddhartha Sanyal said in a research note:
"As regards the widely expected rate cuts, the RBI seems to prefer to lag rather than undertake any easing, in anticipation of easing inflation pressures."
"We continue to expect the RBI to reduce the cash reserve ratio on December 18 by another token 25 bp," he said.
"Headline inflation eased unexpectedly led by fuel and core inflation, which should provide the RBI with some comfort.
However, this will not be enough to trigger a rate cut next week, although RBI is likely to cut the CRR again and signal the potential for rate cuts early next year," HSBC said.
Over the past three months, the Reserve Bank has reduced the cash reserve ratio, the portion of deposits banks are required to keep with RBI, by 0.50 per cent to 8 per cent. But these cuts did not lead to an easing of overnight rates.
The RBI is scheduled to announce its mid-quarter monetary policy review on December 18.
Reserve Bank has resisted a widespread call for the growth-propping rate cuts for some time now, citing the elevated inflation.