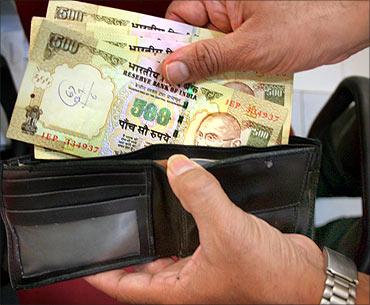 The Reserve Bank of India (RBI) is expected to hold its policy interest rate at 6.75 per cent next week to stifle inflation, while data is seen showing economic growth accelerated to 7.3 per cent in the September quarter, a Reuters poll of economists showed.
All 45 economists surveyed expected the RBI to stand pat at its policy review on Tuesday, while the range of forecasts for gross domestic product growth for the latest quarter was between 6.9-7.6 per cent, with the median at 7.3 per cent.
The GDP data is set to be released on Monday. Having posted 7.0 per cent year-on-year growth in gross domestic product during the June quarter, the economy is improving, but the government's target of 8.0 to 8.5 per cent for the fiscal year ending March looks a long way off.
Two months ago, the Reserve Bank of India lowered its forecast for growth this fiscal year to 7.4 per cent, which would still put India among the world's fastest growing economies.
The RBI's focus is on inflation, however, and it has predicted consumer price inflation will spike to 5.8 per cent in January, having struck record lows of around 3.6 per cent earlier this year, inflation was up to 5.0 per cent in October.
Once India gets over that hump in inflation early next year, the survey of economists suggested the RBI will trim the repo rate to 6.50 per cent in the April-June quarter, where it was seen likely to remain until at least the end of 2016.
India's central bank has already slashed interest rates four times this year, with inflation comfortably within the RBI's target range of 2-6 per cent, and on course to come in under the target for January of 6.0 per cent.
The last rate move was a larger-than-expected cut of 50 basis points in September, when Governor Raghuram Rajan indicated the easing had been front-loaded to take account of downgrades to global growth.
With the RBI unlikely to ease in December, the burden or responsibility for spurring growth shifts to the government, which has promised to pass economic reforms and boost foreign investment.
"The RBI has done what it can do over the last few months, it is fiscal policy which needs to come into picture now," said Prashant Sawant, senior economist at Verisk Maplecroft.
A possible hike in U.S. interest rates will also give the RBI reason to take a precautionary pause, though India is expected to suffer less from capital outflows than most other emerging market peers once the Fed finally raises interest rates for the first time in almost a decade.
Economists were split over whether domestic inflation trends or the prospects of the Fed making a move would have most influence over the RBI on Tuesday.
The Fed is widely expected to tighten policy at its meeting on Dec. 16, two weeks after the RBI's decision.
"The RBI will keep a watch on the recent inflationary path and the likely impact of geo-political tension in Europe on crude prices," said Shakti Satapathy, assistant vice president at AK Capital Services.