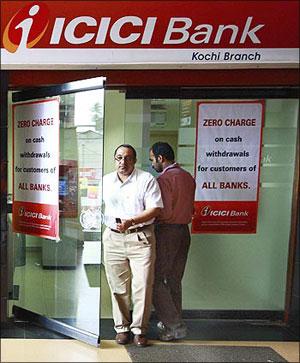 The Reserve Bank of India on Wednesday imposed a penalty of Rs 50 lakh on ICICI Bank and Rs 25 lakh on Bank of Baroda for violation of KYC norms after they allowed opening of accounts in the name of a statutory body by fraudsters.
The Reserve Bank also cautioned SBI, Axis Bank and State Bank of Patiala in the same case.
"The RBI has imposed monetary penalty on the two banks for violation of its instructions, among other things, on know your customer/anti money laundering Know Your Customer (KYC) /Anti Money Laundering (AML)," the central bank said in statement.
Giving details, RBI said it had received a complaint from a "reputed statutory organisation" in August, 2013 through which the details of a fraud perpetrated in five banks -- SBI, ICICI Bank, Bank of Baroda (BoB), Axis Bank and State Bank of Patiala -- with the connivance of certain officials of the statutory organisation were brought to it's notice.
The fraudsters, it said, had managed to open fictitious accounts in the name of the statutory organisation in the five banks.
The accounts were mainly operated for encashing cheques/demand drafts/postal orders of which they were not the rightful owners, for periods ranging from one month to two years, without being detected by the banks.
A scrutiny was undertaken in the five banks in January, 2014 and based on the findings, the RBI issued a show cause notice to each of these banks. The individual banks submitted written replies.
"After considering the facts...the RBI came to the conclusion that some of the violations of serious nature were substantiated and warranted imposition of monetary penalty... on two banks, namely, ICICI Bank Ltd. and Bank of Baroda.
"Failure on the part of these banks to take timely remedial measures had aggravated the seriousness of the contraventions and their impact," the statement said.
In case of the three remaining banks, RBI said it was decided not to impose any monetary penalty as the "banks' explanations regarding the circumstances which led to the fictitious accounts getting opened and operated without detection, was judged to be reasonable".
However, these banks have been cautioned to put in place appropriate measures and review them from time to time to ensure strict compliance of KYC requirements, RBI said.
RBI said its scrutiny of the banks revealed violation of certain regulatory guidelines, including non-adherence to certain aspects of KYC norms like customer identification and acceptance procedure and non-adherence to instructions on monitoring of transactions in customer accounts.