Even as the deficits on fiscal and current account fronts have been building up, it is highly unlikely that the country could witness the repeat of the 1991 economic crisis that was caused by similar factors, said Duvvuri Subbarao, Governor of the Reserve Bank of India (RBI) on Thursday.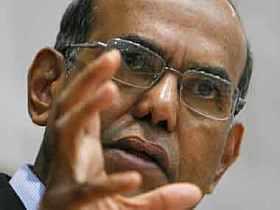 "It is highly improbable that we could have a 1991-like problem as we are a different sort of economy now," he said, while underlining the differentiators of the present economy from what used to be two decades back.

Market determined exchange rate, robust and sophisticated financial markets and a stronger economy are helping the country from going back to such a precarious economic position, he said.

"However, that is not to say that we don't have problems. While Dr Reddy (his predecessor Y V Reddy) had problems of success, like excess flow of
liquidity into the country, I have a problem of problems," Subbarao said in a lighter vein while delivering a memorial lecture.
Referring to the worries over the falling rupee, he said the currency has been depreciating against the dollar because our exchange rates are market-driven; and being a market-driven exchange rate in fact is our strength, not a weakness, he said.
Though RBI has been intervening to contain the rupee depreciation, it can do only so much.
Other aspects of the economy should also come into play to stabilise the rupee, he said. Though the rupee has corrected by 25 per cent, there was no corresponding correction in trade account, which is an issue that has to be viewed as a broader economic problem, said the RBI chief.
Indian growth story needs to be sustained and continued, but that is a responsibility everyone has to take, he said referring to the dilemma of balancing inflation control and push for growth.