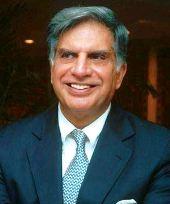 Ratan Tata, chairman emeritus of Tata Sons, on Friday met Civil Aviation Minister Ajit Singh in New Delhi, days after Malaysian carrier Air Asia announced it had sought government's nod to launch a new airline under a joint venture with Tata Group and an Indian investor.

Though there was no official word on what transpired at the meeting this afternoon, it is understood that the plans for the launch of the airline came up during the discussions.

The meeting came days after the Malaysian budget carrier's CEO Tony Fernandes said the new airline may take to the sky by this year-end with 3-4 Airbus A-320 and his company would make an initial investment of between $30-50 million. Besides AirAsia Investment and Tata Sons, the other investor in the joint venture is Arun Bhatia of Telestra Tradeplace.

An application has already been moved by Air Asia's investment arm, AirAsia Investment Limited before the Foreign Investment Promotion Board to seek approval for acquiring 49 per
cent equity in the airline company.
Of the remaining stake, Tata Sons is likely to pick up 30 per cent and one of Bhatia's companies, Hindustan Aerosystems, 21 per cent.
After the FIPB approval, the joint venture company would make an application to the aviation regulator DGCA for the Air Operators Permit to carry out flying operations.
Fernandes recently said the new airline would be based in Chennai and in the initial phase concentrate on destinations in South India where Air Asia already operates.
It would also focus on providing connectivity to Tier-II and III cities.