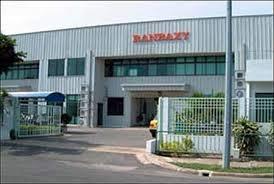 Shares of Ranbaxy Laboratories rose more than 5 per cent after the company announced a US regulatory approval for a hypertension drug to be launched by one of its subsidiaries.

The stock rose by 5.6 per cent to Rs 497.5 in morning trade at the BSE.

The shares had touched a high of Rs 510.45 in the opening trade.

Ranbaxy announced that its wholly owned subsidiary Ohm Laboratories will launch Valsartan Tablets and has received approval from the United States Food and Drug Administration with 180-day
marketing exclusivity for generic version in the treatment of hypertension and heart failure.
Ohm is a US-based subsidiary of Ranbaxy and it is engaged in the manufacturing, sale and distribution of generic and branded private label products in the US healthcare market. Ranbaxy has been at the receiving end of the US FDA.
Earlier in April, Sun Pharmaceuticals Industries announced acquisition of Ranbaxy in an all-share deal.
Sun Pharma shares rose by over 4 per cent to Rs 661, while its group firm Sun Pharma Advanced Research Company was up 1.1 per cent at Rs 162.10.