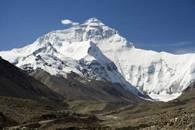 Slamming a UN climate body for predicting that most of the Himalayan glaciers will melt by 2035, the government on Monday said such forecasts were alarmist and sans scientific basis.
"The health of the glaciers is a cause of grave concern but the Intergovernmental Panel on Climate Change's (IPCC) alarmist position that the glaciers will vanish by 2035 was not based on an iota of scientific evidence.
"In fact, we had issued a report (by scientist V K Raina) that the glaciers, have not retreated abnormally. That time we were dismissed, saying it was based on voodoo science. But the new report has clearly vindicated our position," Environment Minister Jairam Ramesh said.
He also took a dig at the comments made by IPCC chairman R K Pachauri, who had dubbed the Environment Ministry's report as "voodoo science".
Ramesh's comments came following revelations that the IPCC's claim that glaciers will melt by 2035 actually came from a 1999 article in a scientific journal, which relied on an estimate made by a leading glaciologist Syed Iqbal Hasnain and was in no way verified by any members of the climate body.
There are indications that the IPCC might retract from its claim that glaciers will melt by 2035. The Minister, however, added, "I still maintain that the glaciers issue is very serious issue for India.
Most glaciers are receding and most are in a poor state of health but from that to derive the conclusion that all glaciers will vanish by 2035 was alarmist and misplaced." Stressing on enhancing scientific capability, Ramesh said the most important lesson that India must learn from the whole episode is that there is no substitute for domestic scientific capability.
This is the second time that the world has proved wrong on climate change on India, the Minister said. "The first time was when the US government estimated in the early 90s that wet paddy cultivation in Indian fields produced yearly 38 million tonnes of methane gas, which was the second most preponderance for emission of greenhouses gases.
"But, it was later established by the India's leading agro-scientist A P Mitra, who challenged the US administration's estimates and found that the emission was four million tonnes per annum on average," Ramesh said, adding the second time was on the "glacier melting" issue.
"What it shows is that there is no substitute for indigenous study, monitoring and modelling. That is why we have set up a network of scientists and researchers to carry out researches based on our local requirements and conditions," the Minister added.