Rajat Gupta, former director of Goldman Sachs and Mckinsey, has resigned from the board of the Hyderabad-based Emergency Management Research Institute (EMRI), a public-private-partnership initiative being run by the GVK group.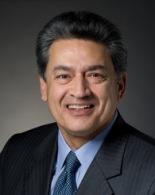 "He has sent in his resignation letter on Friday," GVK group chairman, G V Krishna Reddy, saud. He added the resignation was yet to be accepted; however, there seem to be indications that it would.

Gupta's resignation comes in the wake of the US Securities and Exchange Commission (SEC) initiating administrative and civil proceedings against him on charges of insider trading related to the Galleon group hedge fund headed by Sri Lanka-born Raj Rajaratnam, who was indicted earlier.

EMRI is a non-profit organisation. It handles medical, police and fire emergency calls. This is a free service delivered through state-of-art call response centres.

It was founded by the now-disgraced promoter of Satyam Computer Services, B Ramalinga Raju. While the Andhra Pradesh government was to provide the operational cost, Satyam used to bear the research and development and management cost.

It was entrusted to GVK after Raju was arrested and sent to jail in 2009 in connection with a massive accounting fraud.

According to Reddy, EMRI is doing "extremely well" at present, with 2,700 ambulances and operations spread over 11 states.

"Currently, 17,500 people are working under EMRI, who are attending to 12,000 emergencies and saving nearly 400 lives every day", he said.

Besides EMRI, Gupta is also on the board of another high-profile institution in Hyderabad.

He is the chairman of the Indian School of Business (ISB), also his brain child. In a statement after the SEC's charges on Gupta came to light, it said, "We also note the statement of the counsel for Rajat Gupta, which asserts that the allegations are totally baseless. The ISB community is confident that Rajat Gupta will be vindicated."

An ISB spokesperson said the premium B-school's stand on Gupta remained the same.

Gupta allegedly tipped Rajaratnam before the public learnt about a $5-billion investment by Warren Buffet in Goldman Sachs during the height of the economic crisis.

Following this, Rajaratnam reportedly brought 300,000 shares of Goldman before the market closed.

As the shares soared when the news of Buffet's investment disclosed, he sold the stock the next day for a profit of $900,000. Rajaratnam was arrested in 2009 on a securities fraud charge.