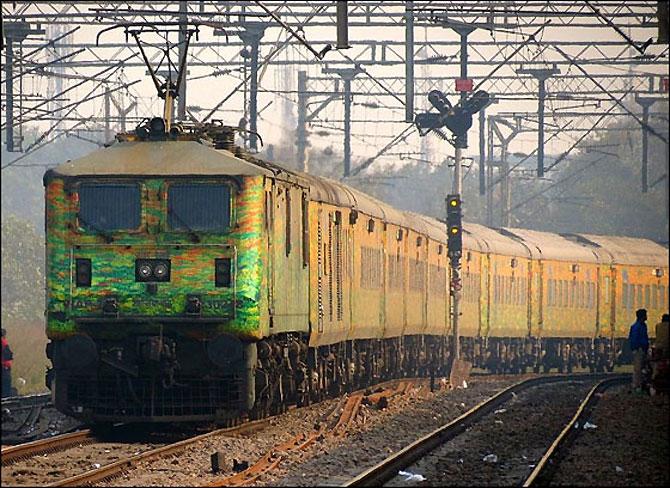 With the Union government clearing the way for foreign direct investment (FDI) in the railways, the Railway Board is devising a plan for operations, maintenance and construction projects.
The ministry is in the process of readying a strategy to suit the diverse range of projects, and the minimum requirement for private entities, according to a senior official.
The draft of a sector-specific policy is ready. It is expected to have some stringent conditions for Chinese companies.
They might not be allowed in projects involving border and sensitive areas, officials from the department of industrial policy and promotion told Business Standard. This was needed for getting the home ministry to agree.
Railways Minister Sadananda Gowda tried to assuage critics by stating on Thursday that FDI would not be allowed in operations. "(It is) only in infrastructure and other areas," he told reporters outside Parliament House. He admitted there would be a wait of a few months to see whether foreign investment would be attracted.
The government has refrained from making any official communication so far, leaving industry guessing. Despite the minister's statement, officials felt FDI would be invited in the operation of high speed rail and dedicated freight corridors.
The biggest change is in the ministry's approach. It is now ready for flexibility in contractual conditions. The railways will informally consult the private sector and finalise the model concession agreements, said the official. "We want to get maximum private investment, whether foreign or domestic, into rail projects. This time, the ministry is keen to listen to the private sector about what kind of projects interest them," said a senior official, on condition of anonymity.
The idea is to make the process more dynamic, though private companies are sceptical about Indian Railways' ability to do away with its ingrained non-entreprenurial approach.
For rail connectivity projects, the 2012 policy notified by the ministry with various models such as annuity-based and build-operate-transfer will continue to serve as the guiding principle to frame model concession agreements, with clear concession periods and revenue sharing agreements, say officials.
The government has so far had public-private partnership (PPP) projects implemented by creation of a Special Purpose Vehicle or by creating a special purpose company for gauge conversion and last-mile port connectivity.
As for private entry into operations, a senior Board official said: "It is too early to comment on how we will execute it but private players will be very interested if operations in last-mile connectivity in port projects are handed over."
The time taken for loading and inconsistencies in timetables, lack of modern signalling and other delays are everyday problems, stemming from the unprofessional attitude of railways, said a private player, also an operator with Container Corporation of India. Others say high haulage charges, no control over operations and non-committal attitude to timely delivery are further deterrents.
The recent Comptroller and Auditor-General report on six PPP projects from 2000 to 2012 said these were marred by arbitrary concession periods, weak project monitoring and lack of a model concession agreement. These led to an additional financial burden was Rs 128 crore. A further Rs 218 crore was lost due to delay in project implementation.