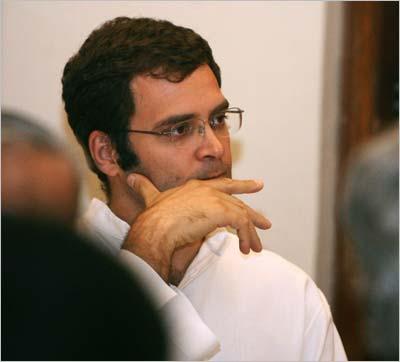 Calling for treating agriculture as a core sector, Congress general secretary Rahul Gandhi on Friday opposed a blanket waiver on farm loans.
Interacting with farmers in the Gadag district of Karnataka, Rahul said that a blanket loan waiver for farmers could prove 'destructive for the system.'
When a delegate at the meeting persisted with the issue, Rahul asked, "What about those poor farmers who have paid their loans on time?"
He called for strengthening micro-finance and credit lending systems as a remedy to farmers' problems.
"Agriculture is central to the country's future," Gandhi told the farmers.
Attacking the previous National Democratic Alliance government for 'neglect of the farm sector', he said, "Earlier, there was a sense that agriculture is a thing of the past. It was no longer respected. Things have changed during the United Progressive Alliance rule."
He commended the UPA government for treating all sectors 'fairly'. To a query about the onslaught of foreign influence on the country, he said, "India's culture is too rich to be threatened."
He visited Ashihal village of the Lambani tribe in Raichur, a model village with more than 90 per cent literacy and dozens of IAS and IPS officers to its credit. He also had dinner with the villagers.
The Congress leader also held discussions with women self-help groups, fishermen, weavers and called upon the farmers across the country to emulate them. -- PTI