More than a month after being promoted as party vice president, Congress leader Rahul Gandhi will have his first interaction with business leaders on Thursday where he may spell out his vision for economic growth of the country.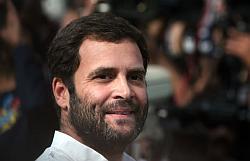 CII's Annual General Meeting (AGM), starting on April 3, will provide Gandhi the platform for his maiden interaction with India Inc.

The 42-year-old Congress leader is slated to speak at a 45 minutes session on the second-day of the meet which will also be attended by top business leaders and industrialists like Bharti Airtel head Sunil Bharti Mittal, Godrej Group Chairman Adi Godrej and Wipro Chairman Azim Premji.

Industry chamber CII's annual general meetings over the years have seen many political bigwigs cutting across party lines
make an appearance to enunciate their vision for economic growth. Congress president and Rahul's mother Sonia Gandhi had made at least two showings at the annual conference in the past.
This year's AGM will be inaugurated by Prime Minister Manmohan Singh on Wednesday.
The CII conclave will discuss key issues like food security and industrialisation.
This will be Rahul's first-ever interface with the corporate world and comes more than a month after he was made the Congress Vice President, the formal second-in-command of the party.
Soon after being appointed as the party vice president, Gandhi had spoken about "a young and impatient India" which is demanding a greater say in the future, governance, decision making, administration and politics.
He had underlined the need for complete transformation of the system to get rid of malaise like corruption.