Recently, he had surprised many by talking of net neutrality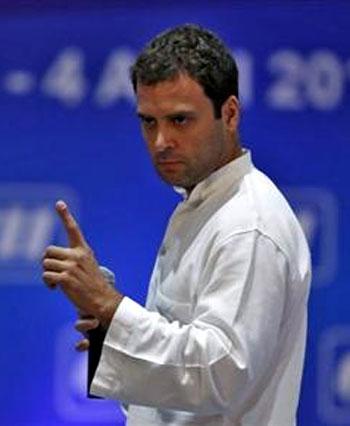 As Prime Minister Narendra Modi was sending invites to tech enthusiasts over social media for a talk on his latest mantra, Digital India, Congress vice-president Rahul Gandhi was busy meeting some of the top representatives of start-ups and e-commerce firms.
Dressed like a techie, in blue jeans and a grey t-shirt, Gandhi spent two and a half hours with the chiefs of some new-age internet companies on Saturday morning. Over tea and sandwiches at his Tuglak Lane residence, he updated himself on the intricacies of these businesses and promised to raise their concerns and be the sector's voice during policymaking.
With the next Parliament session only two weeks away, the Congress leader might well be preparing to take up issues related to the start-up universe. Recently, he had surprised many by talking of net neutrality, a burning issue at that time, in Parliament.
While Modi had wooed internet and e-commerce companies ahead of the 2014 general elections, the government is yet to deliver anything concrete to them. Though there was buzz that foreign direct investment might be allowed in the e-commerce sector, there's been no movement on that front so far.
On Saturday, Gandhi, who has been agitating against the acquisitive power of big industry, caught up with executives of Snapdeal, Ola, Nswipe, Practo, Micromax, Billdesk and Zipdial, among others. Promoting and helping e-commerce and start-up companies topped his agenda, as these new ventures competed with big industry without burning any natural resources, apart from generating thousands of jobs without being dependent on the government for their infrastructure requirement such as land, he is learnt to have said at the interaction.
"We had been thinking that he (Gandhi) is only doing Bundelkhand and farmers, but this was a complete extreme," said an impressed Praveen Chakravarty, angel investor and co-founder of Mumbai Angels. Chakravarty, who participated at the meeting, added Gandhi was very engaged during the interaction, originally scheduled for only 45 minutes. He asked "excellent" questions and showed a side of himself that was well-versed with the start-up ecosystem, not just in India but also globally, Chakravarty said. "He was able to talk to them in their language… dressed in a way they dress up so everybody could relate to him."
Once at ease, company chiefs spoke of their concerns and the impediments they faced on a daily basis. Some spoke of the wrong perception new-age companies had drawn about disrupting traditional businesses, adding they were frowned upon.
While a transport aggregator who generated several thousand jobs spoke of how they were harassed at the local level, others stressed the lack of awareness among policymakers about the sector at large.
An enthused Gandhi is learnt to have said these entrepreneurs had the potential to help transition India into a cashless economy, adding he would take up their concerns both with the government and as one of the Opposition leaders in Parliament.
Milind Deora, former minister of state for telecom and information technology, who helped set up the interaction, told Business Standard Gandhi was passionate about the sector "since these entrepreneurs, the largest digital and internet entrepreneurs, represent democratised values, do not take any assistance from the government, whether through tax incentives or land, and create jobs and provide innovative solutions".
"He was completely tuned into what is happening around the world. He knew about Baidu, how Google was asked to leave China…he remembered the dates; this is just not the impression we had of him," said one of the invitees.
Since the Congress's defeat in the 2014 general elections, the party vice-president has been trying to reinvent both his party's as well as his image.
PM to meet tech enthusiasts soon
After launching the Digital India week on Wednesday, Prime Minister Narendra Modi (pictured) is planning to hold a dialogue with tech enthusiasts, inviting their views, comments and questions on the government's ambitious programme.
Apart from presenting his views on the initiative, Modi has asked people to share their ideas and inputs on Digital India using the hashtag #DigitalDialogue on Facebook, Twitter and LinkedIn; he will answer some of the questions on Sunday. The PM has also been calling upon the country's businesses and technology workforce to find solutions to issues such as domestic manufacturing of electronics, cyber security and digital literacy.