Jaitley began his speech by saying that today is the auspicious day of Basant Panjami and that "spring is the season of optimism".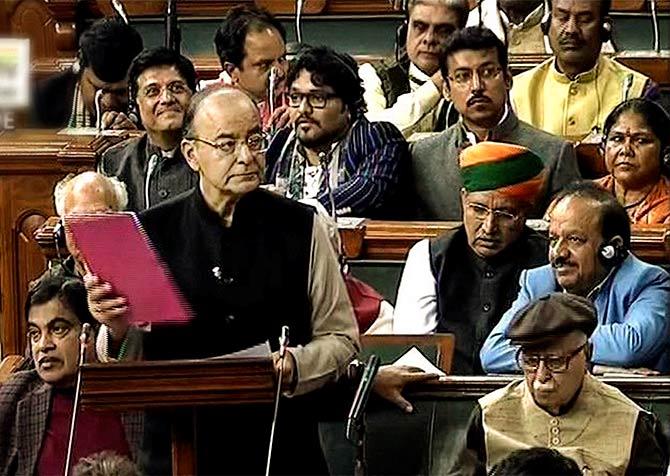 It was a bumpy start for Finance Minister Arun Jaitley when he came to the Lok Sabha on Wednesday to present the Budget for 2017-18, with some Opposition parties seeking its deferment in view of the demise of sitting member E Ahamed.
While parties like Congress, the Left and RJD insisted on adjourning the House as a mark of respect to Ahamed, leader of Indian Union Muslim League who passed away Wednesday morning, Speaker Sumitra Mahajan ruled in favour of Budget presentation today itself, saying it was a constitutional obligation.
Thereafter, it was a smooth sail even though members of the Left parties staged a walkout. Some of them returned to the House soon after.
Trinamool Congress, which is angry over the arrest of its two MPs by the Central Bureau of Investigation in connection with a scam, did not attend the Budget presentation. The party had earlier said that its members would not attend because of Saraswati Puja.
Among other notable absentees were Congress president Sonia Gandhi, Samajwadi Party leader Mulayam Singh Yadav, Union Ministers Manohar Parrikar, Harsimrat Kaur and Maneka Gandhi.
Jaitley began his speech by saying that today is the auspicious day of Basant Panjami and that "spring is the season of optimism".
While presenting the Budget which included the merged Railway Budget, Jaitley spoke for nearly two hours, during which he sought to humour the House with Hindi quotations.
Presenting his third full Budget, Jaitley's various proposals, including on personal income tax and political funding, elicited applause from members who thumped their desks.
Prime Minister Narendra Modi was seen repeatedly thumping the desk as Jaitley read out various provisions of the Budget.
Quotations from Mahatma Gandhi, Swami Vivekananda as well as Hindi couplets peppered the Budget speech.
"Hum aage aage chalte hain aa jayee aap (We wil move forward follow us)," Jaitley said in an apparent reference to frosty relations with the Opposition, especially after the Winter Session was virtually washed out over demonetisation issue.
Clad in a light brown-hued kurta and a black Nehru jacket, Jaitley sat after around 20 minutes into the speech before getting up again to conclude.
Taking on the critics of the government's decision to demonetise high value currencies, Jaitley quoted Mahatma Gandhi to say that "a right cause never fails".
"Kaale dhan ko bhi badalnaa padaa, aaj apna rang (Even black money had to change its colour today)," the finance minister said alluding to the measures taken to deal with illicit funds.
He described the merger of the Railways Budget with the General Budget as a "historic step".
When he spelled out measures to cleanse political funding, some Bharatiya Janata Party members asked the Opposition to thump their desks and a few seconds later. Congress leader Rahul Gandhi thumped his desk to support the move.
Congress members were seen protesting when Jaitley said that the government has made the highest increase in allocation for MNREGA.
Soon after the adjournment of the House, the prime minister went up to Jaitley and shook hands with him.
Jaitley's family was sitting in the Speaker's gallery.