Large pharmaceutical firms feel that if the quality parameters and assurance levels are brought up to the level of branded generics, then Jan Aushadhi medicines would find it difficult to retain their affordability.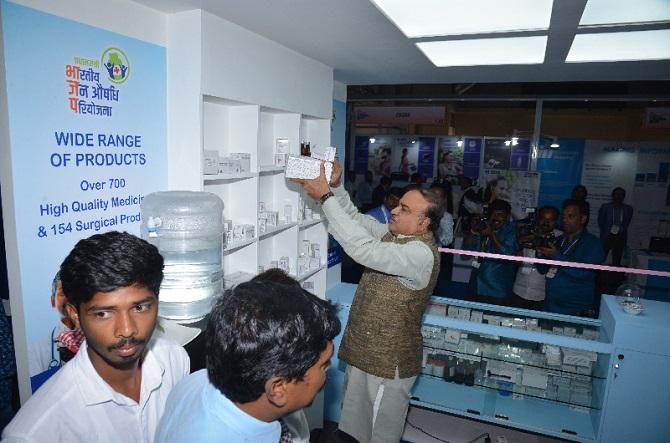 The Jan Aushadhi Yojana, a government initiative to promote quality generic-generic drugs at affordable prices, has grown significantly in the past few years, with over 4,000 stores already being set up in the country.
Industry insiders, however, point out that proliferation of generic-generic stores is unlikely to emerge as a challenge for branded-generic players in the near term.
This is because quality assurance remains a weak point for generic-generic medicines in India.
The government, however, is taking concrete steps to address the perception related to quality of Jan Aushadhi drugs.
The number of Jan Aushadhi stores have increased from 2,091 in the same time last year to 4,099 stores now, according to a recent report by CLSA, a capital markets and investment group focused on alternative investment.
The government has added a majority of the stores in the last two to three years. By the end of 2019, around 5,000 stores are expected to be functional that would cover almost every administrative block in the country.
Most drugs sold in India are branded-generics or basically copy-cat drugs (of a certain patented molecule) that are sold under trade names. Generic-generic medicines do not carry this trade name. Generic-generic drugs are sold cheaper (almost 50-90 per cent less) as they do not incur the promotion and marketing costs like their branded-generic counterparts.
Gaurav Jain, vice-president, corporate ratings, ICRA, felt that even as the number of Jan Aushadhi stores have grown rapidly in the past few years, these are yet to achieve the scale that pharmacy retail stores have in the country. "In comparison to 600,000 or more drug retail stores in India, the Jan Aushadhi stores are only few thousand in number at present," he said.
Meanwhile, the Jan Aushadhi Yojana has made strong progress in recent years.
CLSA highlighted that under new CEO Sachin K Singh, a large state-of-the-art warehouse has been opened in Chattisgarh to resolve availability issues, whereas medicines are now procured only from public sector undertaking (PSU) firms and World Health Organization current good manufacturing practices (cGMP) companies. These medicines are also tested at a NABL-accredited laboratory to address perception related to their quality. Drugs are then dispensed to distributors in various states who in turn supply them to retailers (franchise model, fixed 20 per cent margin).
The government is now conducting doctor camps for creating awareness about the quality of medicines.
Singh, the CEO of Bureau of Pharma PSUs of India, is in the process of setting up regional warehouses. "Dispensing of medicines is done via a reputed integrated transport logistics company now," the CLSA report said.
"The Mumbai store we visited last year has doubled the prescriptions handled daily since then. While Jan Aushadhi has made strong progress over the last year, it will need continued improvement in supply chain and quality of drugs and provide more incentives to franchisee partners in the initial years for it to be a concern for major India-focussed pharma players," CLSA noted.
The Mumbai store has doubled its prescription count to 400 per day in the last one year. Chronic illnesses (such as blood pressure and diabetes) continue to see good pick-up and the availability of drugs has also increased in the last one year.
"Apart from lower and middle income group and retired people (with 60 per cent repeat customers), the store is seeing footfalls from certain upper class customers as well," the CLSA claimed.
Large pharmaceutical firms feel that if the quality parameters and assurance levels are brought up to the level of branded generics, then Jan Aushadhi medicines would find it difficult to retain their affordability.
"India is a large country for generic-generic drugs to become a part and parcel of our medical culture. Physicians would tend to prescribe those medicines where they are sure of the efficacy. Quality improvement would come at a cost for generic-generic manufacturers and the supply chain, and then they may lose the affordability factor," said a senior executive of a large pharma firm.
He further elaborated that marketing and promotion costs make up around 10-15 per cent of the overall spend by a pharma firm. "The major expenditure comes from cost of goods. Also, to maintain a robust supply chain (for instance, maintaining a cold chain to ensure full bio-availability of a molecule till it reaches the distributor) is a major cost for branded generic players," he said.
The first Jan Aushadhi store was opened in November 2008. At present, Jan Aushadhi has a list of over 700 medicines (covering almost all major therapeutic groups such as antidiabetic, cardiovascular system, respiratory, genital-urinary, nerve, anti-neoplastic and immune-modulating agents, among others) and 154 consumables.