Multiplex chain operator Cinemax on Thursday said its promoters will sell their entire stake of 69.27 per cent in the company to PVR Ltd for Rs 394.98 crore (Rs 3.94 billion).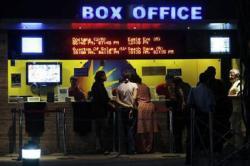 PVR will also purchase additional up to 26 per cent stake from public shareholders through an open offer.

"The company has been informed by its promoters that they have entered into a definitive sale agreement with PVR Limited (through its wholly-owned subsidiary Cine Hospitality Private Ltd) for sale of their entire stake of 69.27 per cent in Cinemax India Limited," Cinemax said in a filing to the BSE.

"The sale has been completed for a total sale consideration of Rs 394.98 crore at a price of Rs 203.65 per equity share," the filing added.

Cinemax shares on BSE closed at Rs 184.25 apiece, up 4.99 per cent from its previous close.

In a separate filing, PVR also said that its board of directors has approved the purchase.

"...board of directors at its meeting held on November 29, 2012, approved, subject to receipt of relevant consents under applicable law, the purchase of entire 69.27
per cent stake in Cinemax India Limited from the Kanakia family," PVR said in the filing.
The PVR board also approved purchase of up to 26 per cent stake of Cinemax India from the public shareholders pursuant to an open offer under the SEBI regulations 2011, the PVR filing added.
Shares of PVR ended at Rs 255.45 apiece, higher by 7.83 per cent that its last close.
PVR, one of the largest multiplex companies in the country runs 197 screens. For the year ended March 31, 2012, the company's total income stood at Rs 513.06 crore (Rs 5.13 billion), up 11 per cent from Rs 462.22 crore (Rs 4.62 billion) registered in the previous fiscal.
Cinemax operates 138 screens across 39 properties in Ahmedabad, Panipat, Nagpur, Hyderabad, Kolkata, Mumbai, Thane, Bangalore and Pune among others, as per information on Cinemax website.