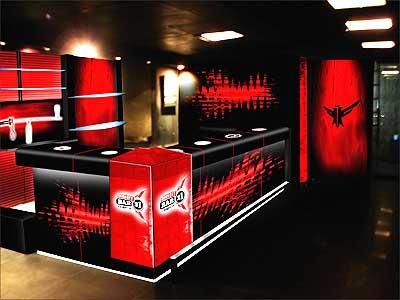 Smirnoff known to provide its consumers around the world the most memorable and unique nights out is hoping its latest clubbing experience will leave Mumbaikars spell-bound.
For the next few weeks only, Smirnoff Bar 21 is at Squeeze and will then take its pulsating beats to Pune. The great line up of artists, lip smacking signature cocktails and the sheer international club experience will keep drawing the party animals in for more.
Smirnoff, the world's most popular premium distilled spirit, sets the 'city of lights' dancing to international standards in club culture with world famous DJ's like Nasha, Trinity, Ryan Shaw, Skazi, Ferry Corstern to name a few. Combination of the best music atmospheres, hottest local and international DJs, music bands, interesting decor, movable lighting - an experience one is unlikely to forget.
Smirnoff Bar 21's 'gourmet bar' offers signature cocktails from internationally popular cocktails like the Moscow Mule that play a role in the 'legends of Smirnoff' to exotic ones developed especially to appeal to Indian taste buds like Smirnoff Soul Kadi, Smirnoff Masala Shots, Smirnoff Rasam, Smirnoff Thandai…definitely one's of their kind!
With its global reach as the world's number one selling premium spirit, Smirnoff recognises great music as the universal element for the most unforgettable night out. It promotes rising stars and gives them the opportunity to play alongside their heroes, making for an eclectic mixture of established and fresh talent.
So life is calling, where are you