RBI's licensing norms require a bank to bring down promoter holding to 40 % within 3 years of operation - which, for Bandhan Bank, will be by Aug 23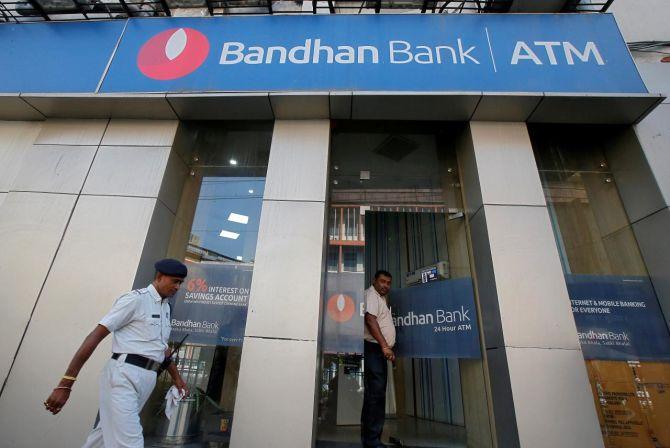 In less than a week Bandhan Bank will complete three years of operations.
It, however, is still waiting for guidelines from the Reserve Bank of India (RBI) on meeting promoter holding norms.
RBI's licensing norms require a bank to bring down promoter holding to 40 per cent within three years of operation - which, for Bandhan Bank, will be by August 23.
The bank went for an initial public offering (IPO) in March, which resulted in the promoter holding came down to 82.28 per cent, from 89.62 per cent.
According to Securities and Exchange Board of India's (Sebi's) rules, promoters have a mandatory one-year lock-in period after the IPO in which they cannot sell their shares.
In Bandhan Bank's case, the RBI could either extend the deadline to meet the Sebi norms or agree to/provide an alternative stake reduction method.
C S Ghosh, managing director and chief executive officer, Bandhan Bank, said, "We will follow the guidelines RBI asks us to follow."
According to last month's earnings call transcript of Bandhan Bank, while answering queries of analysts on stake reduction, Ghosh had mentioned the post-IPO one-year lock-in period for promoters under Sebi norms.
At the same time, the bank is discussing with RBI for guidelines on the issue.
According to analysts, among various options, the bank can look at meeting the shareholding norms by merging Bandhan Financial Services (BFSL), Bandhan Financial Holdings (BFHL) and Bandhan Bank.
Doing this, analysts say, would bring down the promoter holding in the bank to close to 40 per cent. Ghosh refused to comment on the matter.
If the three entities - BFSL, BFHL and Bandhan Bank - are merged, the promoter holding would be close to 40.73 per cent, which will help the bank meet regulatory guidelines.
At the helm of the three-layered ownership structure of Bandhan Bank is BFSL, a non-banking finance company (NBFC), which had a promoter holding of 40.73 per cent, according to data available as of March 2018.
The promoter holding was held by two trusts - Financial Inclusion Trust (32.91 per cent) and North East Financial Inclusion Trust (7.82 per cent).
In 2009, when BFSL converted from a non-governmental organisation to an NBFC, it had issued the shares to the two trusts.
On April 9, 2014, the RBI granted in-principle approval to BFSL for setting up a bank in the private sector.
Subsequently, BFSL and Bandhan Bank entered into an agreement to transfer all of BFSL's micro-finance business, including all assets, liabilities, accumulated profits and its entire infrastructure along with its customer base, to the latter.
After RBI's in-principle approval, and in accordance with RBI's new bank licensing norms, BFHL was set up to act as a non-operating financial holding company of the bank.
BFHL obtained registration as a non-banking financial institution without accepting public deposits from the RBI on June 4, 2015.
BFHL acts as the promoting company for Bandhan Bank, with promoters holding of 82.28 per cent in Bandhan Bank after the IPO.
Photograph: Rupak De Chowdhuri/Reuters