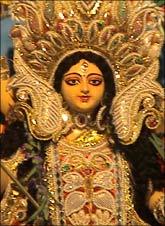 Far from the hurly-burly of politics, Finance Minister Pranab Mukherjee plays another role at this time of the year -- that of a priest worshipping Goddess Durga.
Mukherjee worships Goddess Durga at Miriti, his ancestral village near Kirnahar in Birbhum district, 200 km from Kolkata.
"The puja is around 100 years old. Pranab's grandfather late Jangaleswar Mukherjee started the puja," said Goutam Roy, who has been looking after puja arrangements for the last couple of years.
"After him, Pranab babu's father Kamadakinkar Mukherjee continued the puja. Pranab babu is keeping the tradition alive," he said.
Mukherjee himself performs the puja on Maha-astami Puja, the second day of the four-day festival, with thousands of people -- including family members, villagers, and party workers -- visiting Miriti.
Like previous years, this year too Mukherjee is scheduled to reach his home at Miriti, a hamlet near Kirnahar for the puja. Last year, Mukherjee flew to the Panagarh air base and drove down to Kirnahar.
Asked about Mukherjee's visit, District Magistrate Bisweswar Maity said, "He has Z category security. We have made the required arrangements."
Superintendent of Police Rabindranath Mukherjee said, "So far we have not received any special instructions. But our officers are keeping a watch. They will be in touch with Pranab Mukherjee's family members."