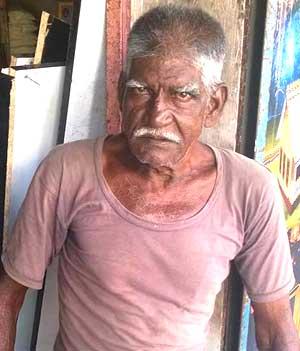 Demonetisaton has left many daily wage earners scrambling for a living.
Rediff.com's A Ganesh Nadar reports.
They don't have the benefit of a provident fund or dearness allowance.
They don't have house rent allowance or leave travel allowance.
They don't even have a guarantee that they will get work every day.
Though they form the largest component of the working population in India, they languish at the bottom of the employment ladder and are part of what is known as the unorganised sector.
They don't have old notes to exchange.
They don't worry about how they will get change for a Rs 2,000 note.
Their problems are different.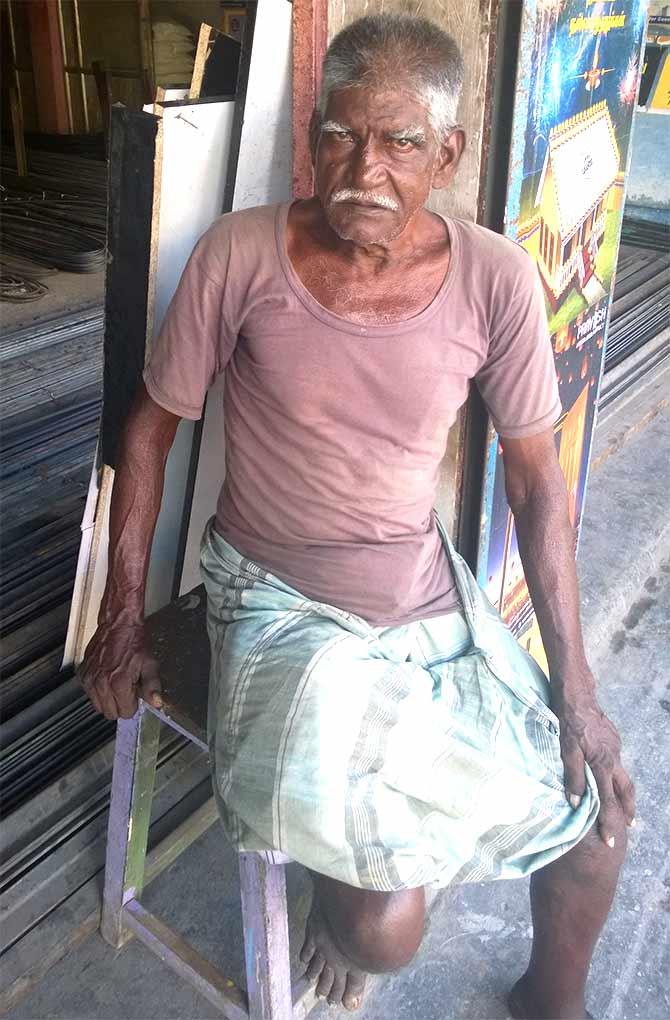 Armugam, 63, delivers goods in the half ton category on his tricycle.
I am from Guduvancherry on the outskirts of Chennai.
I have been attached to this shop for 32 years now.
I used to earn anywhere between Rs 1,000 to Rs 1,500 a day before the cash crunch. Now there is no business, so there are no goods for me to deliver.
I have barely made Rs 300 a day since November 9.
I had Rs 5,000 in old currency -- two 1,000 rupee notes and six 500 rupee notes. I deposited it in my account after a couple of days; the first two days were too crowded. The bank did not ask me any questions.
I live in one room for which I don't pay rent. I used to run errands for my landlord when I was younger, so he never asked me for rent. Now, I can't run errands, but he doesn't ask me to pay rent. He is family to me.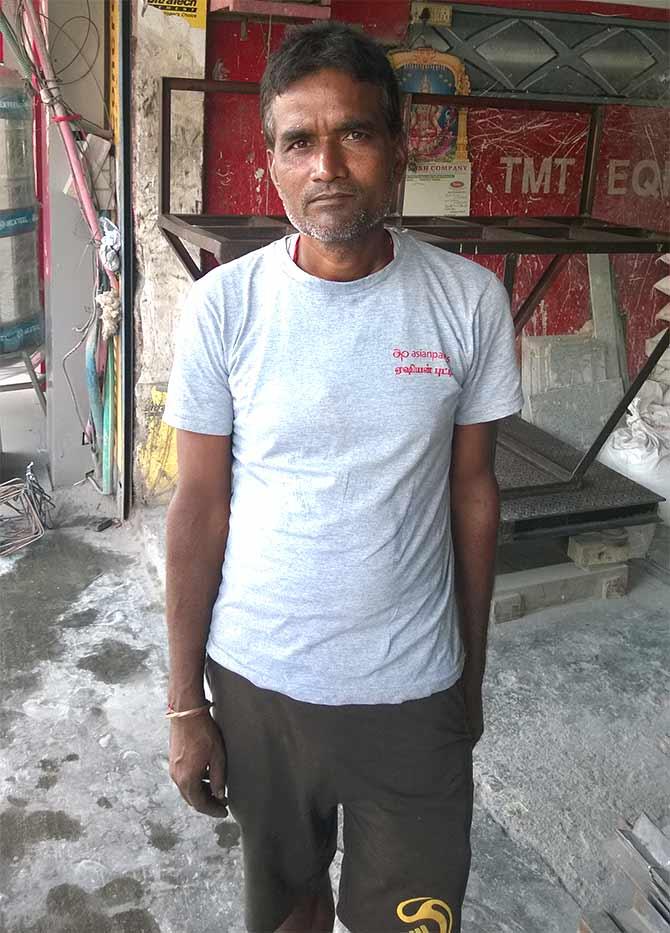 Anil Kumar, 40, a commerce graduate, works as a loader
There are no jobs for graduates in Jharkhand, the state I belong to, so I came to Chennai.
I don't know Tamil, so how can I expect that I will get an accounting job just because I am a commerce graduate?
I am happy to work as a labourer. I earn Rs 400 a day. I share a house with other people from my state who, like me, have come here to earn a living.
There are about 40 of us in Chennai. We work all over the city.
I have a bank account in my state. I put money in my account here and my wife withdraws it from the mini-bank in our village.
The mini-banker is not from my caste, but he is my neighbour, so my wife can withdraw money at night too.
I did not have a single high denomination note when the announcement was made so I have no cause for worry.
When I have a reasonable amount of money, I go to the bank to deposit it.
I go home once a year to meet my family -- my three children go to school there.
How has the currency crunch hit us? There were 30 loaders working here every day, now, there are only seven.
The shop owner is a good man and irrespective of how many of us come he never refuses us work.
We know there is not too much work right now, so we asked the others to work as lorry loaders.
We don't want to burden a good man.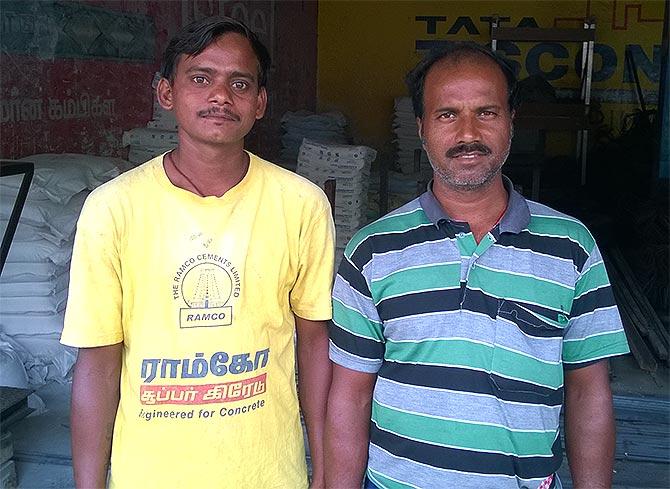 IMAGE: Raju and Rajkishore.
Raju, 31, loader
I too am from Jharkhand. There are coal mines in my area, but there is no work there.
I came to Chennai a year ago. I am learning the language and the people are kind.
When we don't understand what they say, they talk to us in sign language; they never get angry with us.
I had only one Rs 500 note that night. I stood in line and deposited it in the bank on day one. I didn't know when they may stop accepting it.
I did not come here to be entertained. I came here to earn for my family and that is the only thing I do.
I have three children back home.
I have work here every day, even after the currency crunch.
I don't know whether the note ban is good for the country or not. What I know is my people have less work because of it. So it means it is bad at the moment.
I hope the situation improves.
Rajkishore, 40, loader
I am from Jharkhand. I studied up to Class 9.
I was working in Dhanbad, but the situation got worse there and a lot of people, including me, lost their jobs.
I have been here for two years and have visited home twice. I have three children.
On the day the prime minister made his announcement, I had Rs 5,000 rupees in 500 and 1,000 notes. The next day, I had to stand in a queue for half an hour but had no problem depositing the money when my turn came.
Those who don't have bank accounts, and now to have to exchange the old notes for new money, are facing problems. There is a big crowd at the bank and the bankers ask so many questions.
I am glad I am attached to this shop as we always have work here. But many of the people from my state are not as lucky. We help each other as we stay together and so no one is going to starve.
Business is down because people have no cash.
I think it will take six months for the situation to normalise. I hope it does because poor people are suffering the most.
Photographs: A Ganesh Nadar/Rediff.com