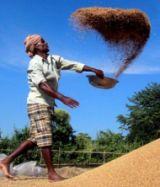 Official prediction of a weak monsoon could make the government's job of taming food inflation — particularly in pulses, oilseed, coarse cereals and vegetables — more difficult.
The rate of food inflation, as measured by the consumer price index, rose to 9.66 per cent in April from 9.10 per cent in March.

"The highest impact could be on oilseed, pulses and horticulture. The government has comfortable rice and wheat stocks. Also, much of Punjab and Haryana has irrigation," said Indira Gandhi Institute of Development Research Director S Mahendra Dev.
He said it could be difficult in Madhya Pradesh, Maharashtra, Karnataka, Rajasthan and Gujarat, where farms are mostly rain-fed.

Production of coarse cereals like millet could fall. "Food inflation might rise due to the low harvest of pulses and oil seed.
The government could increase import of pulses, as it did in 2009," Dev said. Even rice could be affected in areas like eastern Uttar Pradesh, depending on the distribution of rainfall.

The government has sufficient grain stocks. Against a buffer norm of about 10 million tonnes of rice and 17 mt of wheat, the central pool has 20.64 mt and 41.59 mt of stocks, respectively.
In the event of low monsoon rainfall, its distribution is key. Rainfall 10 per cent below normal may not have a debilitating impact if it is even.

"In the northern and western regions, much will depend on the distribution.
If the monsoon is deficient in June and early July, paddy production might suffer in areas that do not have irrigation," said Prof Sudhir Panwar, president of the Kisan Jagriti Manch.
In the west, where irrigation is poor, pulses, soybean and oilseed could be affected, as also maize and millet.

"The most worrisome impact could be on vegetables and horticulture crops," Panwar added.

However, some disagree. "Less rain could, in fact, be a blessing as farmers switch from water-intensive crops like rice and opt for pulses, oilseed and millets," said N P Singh, director of the Indian Institute of Pulses Research (IIPR).
He said if rice planting did not start in full swing in the next 10-15 days, almost 10 per cent of the area under the crop could be available for pulses. The monsoon arrived in Kerala on June 6, five days late.

S Ganeshan of the Crop Care Federation of India (CCFI) said he would not press the panic button yet because of the grain stocks and the possibility of even rainfall.

The government is readying relief for farmers, including a subsidy on diesel and restructuring of loans in rainfall-deficient areas.

The India Meteorological Department in its second forecast for this year's monsoon on Monday estimated overall rainfall across the country at 93 per cent of the 50-year average from 1950 (known as long-period average, or LPA) two percentage points lower than its first prediction.
The met office said except for the northearnern monsoon region (includes Bihar, Jharkhand and West Bengal), every other part of the country would receive less rain than normal.

Japanese brokerage firm Nomura, meanwhile, said in a report that a sub-normal monsoon was likely to drag down India's food output, with the country's agricultural GDP growth slumping to 0.8 per cent in the current financial from 4.7 per cent in 2013-14.

The monsoon is a lifeline not only for summer crops like rice, soybean, groundnut, maize, pulses, cotton, sugarcane and jute, but is vital for recharging groundwater for winter crops like wheat, barley and mustard.

Rainfall over Gujarat, Madhya Pradesh, Maharashtra and Odisha is likely to be 94 per cent of LPA.
These states grow oilseeds, pulses, millets and other coarse cereals. Punjab, Haryana, Delhi, Uttar Pradesh and Uttarakhand are expected to get 85 per cent of the average rain this season.
Rice, sugarcane and some pulses grow here and over 80 per cent of the farmland is irrigated. Andhra Pradesh, Karnataka, Tamil Nadu and Kerala are expected to receive 93 per cent of the average rainfall.