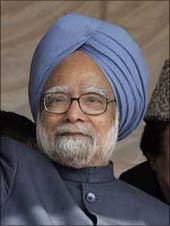 Aiming to give fillip to India's Look East policy, Prime Minister Manmohan Singh is expected to announce new initiatives to take forward ties with the ASEAN by setting up a mission and appointing an ambassador for the 10-member grouping.
Singh, who arrived in Brunei on Wednesday, will attend the 11th India-ASEAN Summit and the 8th East Asian Summit on Thursday, followed by a bilateral visit to Indonesia.
During his stay here, Singh will hold talks with the ASEAN leaders on crucial bilateral and regional issues, including ways to enhance economic cooperation.
As India aims to take forward its relationship with the ASEAN (Association of South East Asian Nations), Singh is expected to announce India's plans to set up a new mission for the grouping.
India plans to appoint a separate ambassador for the strategically important region. The new mission would be set up in Jakarta, the capital city of Indonesia where ASEAN Secretariat is also based.
During the visit, India will also sign an inter-governmental agreement with six East Asian nations on Nalanda university. India is also looking for greater economic ties and cooperation in areas of security, connectivity and culture with South-East Asian countries.
Describing Brunei Darussalam and Indonesia as two important partners in South East Asia, Singh said in his departure statement, "Our engagement with the ASEAN and its member countries is the cornerstone of our 'Look East' policy and has evolved into a strong, comprehensive and multi-faceted partnership in recent years."
Singh said India sees the East Asia Summit as a "springboard" to regional cooperation and integration and is participating in the negotiations for a Regional Comprehensive Economic Partnership among the ASEAN and its FTA partners, which will help create an economic community in the region.
The visit assumes significance as India is looking to ink a Free Trade Agreement (FTA) on services and investments by the end of 2013 with ASEAN.

An FTA on goods is already in place between India and ASEAN and it has significantly helped expand the trade with this regional block. The ASEAN-India trade currently stands at $76 billion, which is targeted to be increased to $100 billion by 2015 and to $200 billion by 2022.
ASEAN includes Brunei, Cambodia, Indonesia, Malaysia, Myanmar, Laos, the Philippines, Singapore, Thailand and Vietnam. Singh is accompanied by his wife Gursharan Kaur, National Security Advisor Shivshankar Menon and other top officials on his four-day visit.
In the evening, Singh attended a gala dinner that saw the participation of leaders from various countries.