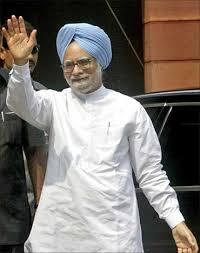 In what is being considered as a farewell meeting, Prime Minister Manmohan Singh will meet the full-time members of the Planning Commission on Wednesday to take stock of the economy and progress of development works undertaken during the United Progressive Alliance regime.

"Prime Minister will be meeting all regular full-time members of the Planning Commission on April 30 at Yojana Bhawan, to gauge the impact of various government steps to boost economic growth and contain price rise," a source said.

Singh, who is also the Chairman of the Commission, in the last meeting with the Commission members, is expected to thank them for the work done during the ten-year period.

The term of the members of the Planning Commission is co-terminus with the Prime Minister and they would be submitting their resignations once the new government is formed after the ongoing general elections next month.

Besides deputy chairman of the Commission Montek Singh Ahluwalia, the members of panel are B K Chaturvedi, Saumitra Chaudhuri, Syeda Hameed, Narendra Jadhav, Abhijit Sen, Mihir Shah, K Kasturirangan and Arun Maira. Minister of State for Planning Rajeev Shukla will also attend the meeting.

The objective of the meeting is to use members' hands on knowledge of economic affairs of different sectors and put across the message about the state of economy to the new government to be formed sometime next month.

"All regular members will participate in the meeting with presentations on the different economic sectors being handled by them. Ahluwalia will apprise the Prime Minister about the country's energy scenario besides explaining him about the broad economic situation of the country," he said.

The meeting comes in the backdrop of deteriorating economic situation ever since the global financial crisis triggered by collapse of Lehman Brothers in September 2008.

According to the advanced estimates of Central Statistics Office, the economy is estimated to grow at 4.9 per cent in 2013-14 compared to 4.5 per cent in the previous fiscal.
Image: Prime Minister Manmohan Singh; Photograph: Reuters