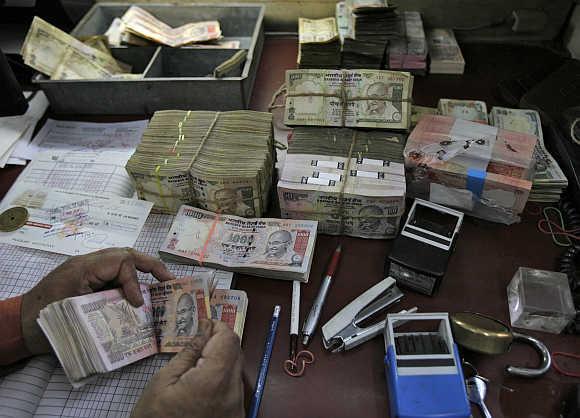 Prime Minister Narendra Modi will launch on April 8 the Rs 20,000 crore (Rs 200 billion) MUDRA Bank, an agency to refinance micro-finance institutions which will also act as regulator for the sector.
The MUDRA (Micro Units Development and Refinance Agency) Bank, which was announced by Finance Minister Arun Jaitley in his Budget speech, is expected to benefit about 5.77 crore small business units.
To work out the modalities of functioning of MUDRA Bank, the Finance Ministry today held a stakeholders' consultation.
Presided over by Financial Services Secretary Hasmukh Adhia, the meeting was attended by representatives of micro finance institutions, NBFCs, Banks, NABARD, SIDBI and RBI, the Finance Ministry said in a statement.
"Based on the consultation which took place today as well as the consultation which will happen in the days to come, the exact modalities of functioning of MUDRA Bank and its activities would be framed before the formal launch of MUDRA Bank on April, 8 2015 by the Prime Minister, and the same would be unveiled on the day of launch," it said.
The government proposes to set up the Bank through a statutory enactment. This bank would be responsible for regulating and refinancing all MFIs which are in the business of lending to micro or small business entities engaged in manufacturing, trading and services activities.
The bank would partner with state level/regional level coordinators to provide finance to last mile financier of small/micro business enterprises.
It would lay down policy guidelines for micro/small enterprise financing business, registration of MFI entities, regulation of MFI entities and accreditation /rating of MFI entities. It will also frame guidelines for financing practices to ward-off indebtedness and ensure proper client protection principles and methods of recovery.
MUDRA Bank will have a corpus of Rs 20,000 crore (Rs 200 billion), and credit guarantee corpus of Rs 3,000 crore (Rs 30 billion). "MUDRA Bank will refinance Micro-Finance Institutions through a Pradhan Mantri Mudra Yojana," Jaitley had announced.