Prime Minister Manmohan Singh heads for Cannes in France on Wednesday to attend a crucial summit of the world's 20 leading economies(G20) during which India is expected to make a call to resist trade protectionism when the global economic growth is facing a slowdown.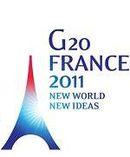 Singh, who will be at the G20 summit for the sixth consecutive time since it was first hosted by the US in 2008, is also likely to push through India's agenda for voluntary exchange of tax information to curb black money.

India also wants the G20, which accounts for 85 per cent of the global output and two-thirds of the world population, to include new measures to clamp tax violation channels.

The two-day summit to be held in the seaside resort town, famous for the prestigious Cannes film festival, itself hopes to agree on measures to head off the threat of global recession.

Singh is due to return home on Saturday night. It will be dominated by efforts by European leaders to resolve the sovereign debt crisis after the 17-nation Eurozone sealed a deal last month critical for global economic recovery.

The summit hosted by French President Nikolas Sarkozy is expected to seek commitments from all G20 members on growth and on rebalancing public finances.

US President Barack Obama, British Premier David Cameron and Chinese President Hu Jintao will be among the world leaders at the critical summit.

Singh is expected to urge the G20 to take the necessary steps to address current economic instability and to take concrete steps to put open trade, jobs, social protection and economic development at the heart of the recovery.

While underscoring the need to avoid protectionism, he is expected to advocate the importance of an open, transparent and rules-based multilateral trading system as a driver of global growth.

The economist-turned prime minister, whose advice is often sought at the G20 high table, is expected to give this prescription for providing the necessary confidence to global markets and ensure a more stable global economic environment.

Like in the previous five summits at Washington, London, Pittsburgh, Toronto and Seoul, Planning Commission Deputy Chairman Montek Singh Ahluwalia will
be the Prime Minister's sherpa, or chief interlocutor aat the Cannes meet.
"This year, this(G20) is not an issue on which there is much of an India focus," Ahluwalia said, adding, "It is an annual event, and it will get dominated by issues related to the management of the global economy and the Eurozone crisis."
Besides India and host France, the G20 comprises Brazil, US, Canada, China, Argentina, Australia, South Korea, Germany, Indonesia, Italy, Japan, Mexico, Russia, Saudi Arabia, South Africa, Turkey, Britain, and the European Union (EU).
At the summit it is hoped that an agreement will be reached on creating new IMF credit lines to increase the international system's ability to resist systemic shocks.
The G20 hopes to adopt the principle that there should be coordination between the IMF and regional funds, and that multinational oversight by the IMF be strengthened, to avoid contagion.
The general assessment among the G-20 nations is that the role of the IMF and its capacity should be strengthened.
Ahead of the summit, India has reportedly sought French support to push through its agenda of voluntary exchange of tax information to curb black money.
New Delhi has sent a draft formulation for the G20 communiqu to France for its endorsement that seeks a call to international community to take a lead in voluntary exchange of tax related information.
It also wants the G20 to include new measures to clamp tax violation channels. The G20 leaders will be presented with reports from a global forum on banking secrecy and tax avoidance run by the OECD, detailing which countries still allow foreign nationals to hide revenue in offshore banks.
G20 leaders are also expected to work on common guidelines on how to reduce volatility in international capital flows.
The leaders will also send a signal of support to the World Trade Organisation (WTO) and voice their determination to fight protectionism.
The move to impose small tax on financial transactions as a mechanism to force markets to help pay for government efforts to rescue an economy laid low in part by their excesses is also expected to engage the attention of the G20 leaders.
France and Germany have been pushing for this measure while India is opposed to global Financial Transaction tax (FTT).