After several quarters of scattered growth, a recent uptick in demand and strong deal flow are expected to lead all tier-I Indian information technology (IT) services companies to post robust growth for the July-September quarter (Q2 of FY15), against their performance during April-June (Q1).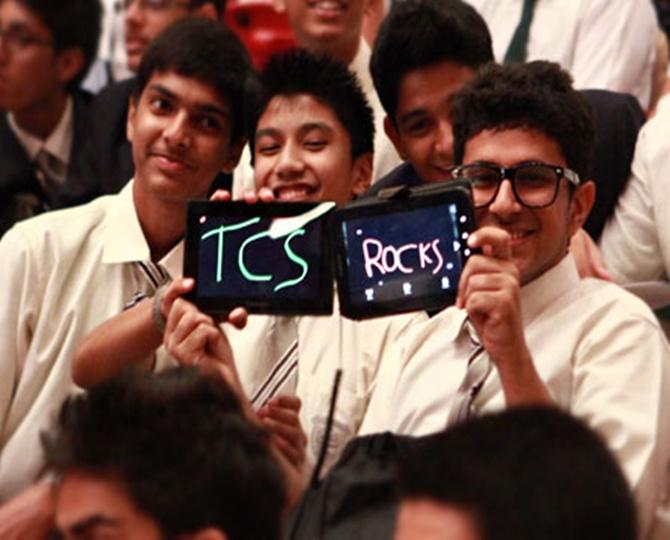 Image: Analysts expects TCS to report good numbers in Q2 of FY15. Photograph: Courtesy, TCS
In line with several earlier quarters, the country's largest IT services company, Tata Consultancy Services (TCS), is seen leading the pack in Q2, closely followed by HCL Technologies.
Company-specific issues are likely to continue dragging down the performance of Infosys and Wipro, the Bangalore-based majors. "As is the norm, TCS will likely lead the constant-currency quarter-on-quarter (QoQ) revenue growth," says a note from US-based financial services firm JPMorgan. It expects TCS to post at least five per cent sequential growth in revenue during Q2.
"Infosys should have a better September quarter than the June one (in constant-currency revenue growth)...We expect Wipro to do better than turn out another quarter of 'well-below median of revenue guidance band', a feature of its revenue print in the past three quarters."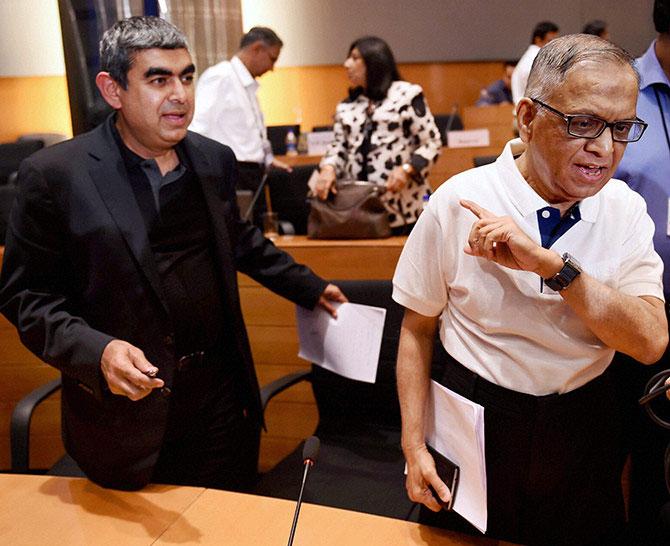 Image: N R Narayana Murthy with Infosys CEO & MD Vishal Sikka. Photograph: Shailendra Bhojak/PTI
Infosys, scheduled to announce its Q2 earnings on October 10, will be the focus.
The Street is waiting for its new chief executive officer, Vishal Sikka, to share his strategy for a turnaround.
Most analysts believe Infosys will retain its revenue growth forecast for FY15 at seven to nine per cent.
Credit Suisse thinks it possible for the company to narrow its forecast ('guidance') range.
"With relatively soft Q1 growth (at two per cent QoQ) on a weaker base, it will need to see a two to four per cent CQGR (compounded quarterly growth rate) for the remaining three quarters to meet the lower and upper end of the guidance," Credit Suisse said in a note published on Tuesday.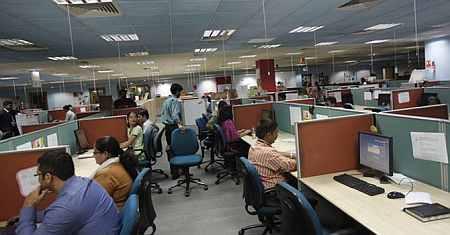 Image:

Cross-currency headwinds are likely to put some pressure on the revenue performance of most IT services entities during Q2. Photograph: Reuters
"We believe the historical seasonality pattern (of first half growth significantly better than that of the second half) might be less pronounced this year for Infosys." Viju K George of JPMorgan said the Street was already bracing for Infosys to remain close to the lower end of its annual revenue growth guidance.
Wipro, which surprised investors with a strong revenue growth guidance of 1.7 to four per cent for Q2, is not only expected to meet the target but also share an equally robust growth guidance for Q3, on the back of healthy order booking and demand from key regions, analysts said.
According to the companies' websites, TCS will announce its Q2 earnings on October 16 and Wipro on October 22.
Cross-currency headwinds are likely to put some pressure on the revenue performance of most IT services entities during Q2, analysts said.
According to Anantha Narayan and Nitin Jain of Credit Suisse Securities Research, with a three per cent depreciation in the euro-dollar rate and around one per cent in the British pound and the Australian dollar, cross-currency headwinds could be in the range of 30-80 basis points (bps) sequentially during Q2.
WHAT THE FUTURE HOLDS
•Strong demand seen aiding all large firms
•TCS seen leading; HCL close second
•Company-specific issues might drag down Infy, Wipro
•Cross-currency headwinds could take 30-80 bps hit
•Pay rises to hit margins of HCL, Wipro
•Margins of TCS, Infy seen rising slightly
•Mindtree, TechM in focus amid tier-II companies